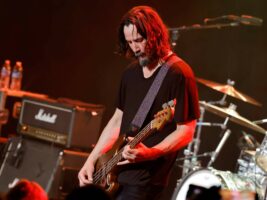 Listen to Keanu Reeves' band Dogstar's first music in 23 years
Keanu Reeves' recently reunited band Dogstar have announced their first album in 23 years.
The trio's new record, Somewhere Between The Power Lines and Palm Trees, will be released on 6th October and is preceded by its lead single, Everything Turns Around. 
"We are so excited to re-introduce Dogstar with our new single Everything Turns Around," the band says in a press release.
They continue: "It feels like a fun summer song to us. It has an uplifting message and a positive vibe that hopefully makes your day a little bit lighter. It's one of our favourite songs to play live and can't wait to share it on our upcoming tour."
Dogstar released two albums, 1996's Our Little Visionary and 2000's Happy Ending, before parting ways in 2002. Reeves plays bass in the band and their success was partly bolstered by his acting career taking off while the band were together.
The band confirmed on Instagram that they had reunited last summer and updated fans on the progress of new music  with frequent behind-the-scenes photos and videos.
"Honestly, didn't expect this. It makes us want to play out even more," an update in May read.  "We will be rolling out some new music this summer, followed by some gigs. As soon as it's all figured out we will let everyone know immediately. So much to do, but rest assured, we are on it and have assembled a fantastic team that are helping us.
They also described their new music as "the most satisfying and meaningful batch of songs we've ever done".
View this post on Instagram
A post shared by Dogstar (@dogstarband)
Dogstar will also be touring in support of the record with a run of mostly North American dates, as well as a string of shows in Japan in September.
The post Listen to Keanu Reeves' band Dogstar's first music in 23 years appeared first on Guitar.com | All Things Guitar.
Source: www.guitar-bass.net