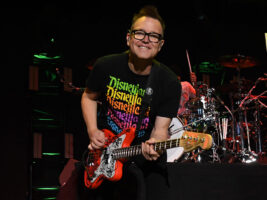 Mark Hoppus shares cancer update: "This week I'll take a test that may very well determine if I live or die"
Mark Hoppus has shared a significant update on his cancer diagnosis, revealing that this week he will be undergoing a critical test that "may very well determine if I live or die."
The Blink-182 bassist first made his diagnosis public in June, stating then that he was already three months into chemotherapy. "Apologies if I'm oversharing but it's so surreal to think that this week I'll take a test that may very well determine if I live or die," he wrote on Twitter yesterday (11 July). "Thanks to everyone for the positive thoughts and encouragement. I read all your replies and it means the world to me. Thank you."
Hoppus also shared a medical image of the tumour, which appears to be located around the region of his shoulder.
"I'm going to beat this through chemotherapy or through bone marrow transplants, but either way I'm determined to kick cancer's ass directly in the nuts," he continued. "Love to you all. Let's. Heckin. Go."
to beat this through chemotherapy or through bone marrow transplants, but either way I'm determined to kick cancer's ass directly in the nuts. Love to you all. Let's. Heckin. Go. pic.twitter.com/6ih3AEJq7y
— ϻ𝔞Ⓡ𝔨 𝐇𝑜Ƥ𝐩ย𝓼 (@markhoppus) July 11, 2021
When Hoppus revealed his diagnosis last month, guitarist Tom DeLonge, who co-founded Blink-182 with him 1992 and left the band in 2015, tweeted his support for his former bandmate.
"[I've] been aware of Mark Hoppus' cancer diagnosis for a while now," DeLonge wrote. "And to add to his own words that he used today, I would also like to say that he is strong, and a super-human who is pushing through this difficult obstacle with a wide-open heart."
The post Mark Hoppus shares cancer update: "This week I'll take a test that may very well determine if I live or die" appeared first on Guitar.com | All Things Guitar.
Source: www.guitar-bass.net