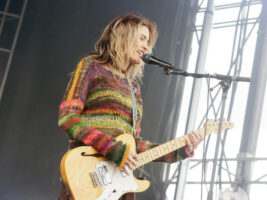 Michael Jackson's daughter drops new grunge single that sounds like Nirvana
Paris Jackson, daughter of the late Michael Jackson, has released a new grunge single titled Bandaid.
READ MORE: Devin Townsend says he gave up shredding after working with Steve Vai
The song — which Jackson describes as having a "harder" sound than her previous singles Just You and Lighthouse, is set to be the title track of her upcoming sophomore album.
"I used the same [sound] mixer, so there is definitely a cohesiveness with the first two singles, but this one is a bit more influenced by bands like the Pixies, Smashing Pumpkins, Nirvana, Interpol," the singer said in an interview with People. "It's a little bit louder, it's more fun. But in terms of the songwriting aspect, it's still the same acoustic folk approach that I always take when I'm writing."
Jackson explained, "This is the type of music I used to dream of making myself when I was 14 discovering Nirvana and Pixies for the first time." (via NME)
"I'm grateful to have also started producing, and Simon Oscroft has been the perfect partner to do that with," she added.
"I'm also deeply honoured by my good friend Anthony Salazar who, when I said, 'hit those drums harder than Tommy Lee on Wild Side,' did just that. I hope there are people out there that get from it what I got from albums like I'm wide awake, it's morning by Bright Eyes, a record that truly made me feel heard and understood from the inside out."
Check out Bandaid below.
The post Michael Jackson's daughter drops new grunge single that sounds like Nirvana appeared first on Guitar.com | All Things Guitar.
Source: www.guitar-bass.net