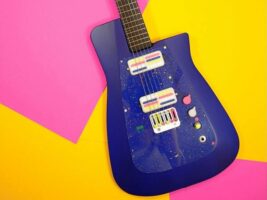 Millimetric marks its 100th build with this "crazy and colourful" guitar
Millimetric Instruments is celebrating its 100th build with a "crazy and colourful" electric guitar created by luthier Florian Bouyou.
READ MORE: Fender launches new collection of sustainable guitars in California Streetwoods collection
"I wanted to celebrate my 100th build with 3 very crazy and colorful builds," writes the brand's founder in an Instagram post commemorating the occasion.
Dubbed 'La 100eme V1', the guitar is made mostly from discarded parts and sports what Bouyou calls "a crazy patchwork of colors and little painted details".
As with the brand's family of instruments, the guitar has a minimalist design that makes it look both ultra-chic and super futuristic all at once. It features a Klein blue body and an oxidised walnut neck, topped with two striking fluorescent pickups and a bunch of fluo parts such as the guitar's bridge and control switches.
As cool as it looks though, the instrument will not be available for sale, but Boyou has said that he can build something like it in the future.
View this post on Instagram
A post shared by @millimetricinstruments
Bouyou, who studied graphic design and furniture making before turning his hand to luthiery, told Guitar in an interview that Millimetric was inspired by the principles behind Scandinavian furniture.
"A friend gave me his Aria LP Custom copy and I started taking it apart and replacing parts, experimenting with its sonic possibilities," said Boyou. "At that time, I was studying graphic design and started drawing guitar shapes and ideas. I then wanted to study guitar making and applied to Montréal's Bruand luthiery school but got refused, so I went for the cabinet making program instead and got hooked on building Scandinavian and minimalist furniture."
"In the middle of my third year, I built my first guitar heavily inspired by Obstructures and Travis Bean aluminium designs. A few years after that, around 2012, Millimetric Instruments was born."
"After building my first few guitars and starting my Instagram page, I quickly realised that my designs were filling an empty space on the market. I found a niche and got deeper into it, embracing minimal designs and colourful finishes," he added.
To learn more, head to Millimetric Instruments.
The post Millimetric marks its 100th build with this "crazy and colourful" guitar appeared first on Guitar.com | All Things Guitar.
Source: www.guitar-bass.net