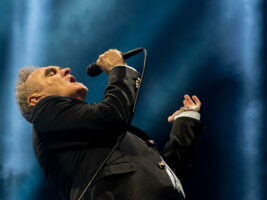 Morrissey calls Capitol Records "fascist" as album Bonfire of Teenagers remains unreleased
Morrissey has slated Capitol Records as "fascist" and stated that the music industry has become "censorian" as his album Bonfire of Teenagers remains unreleased.
READ MORE: Josh Klinghoffer says "the culture" to blame for Morrissey album delay: "I honestly don't think he's a malicious person, even if he says stupid shit"
Bonfire of Teenagers would have marked Morrissey's 14th solo album, and was scheduled for release in February 2023. The record was originally made back in 2020 and 2021, but was shelved by the label after Morrissey announced his "voluntary departure" from the label in 2022.
The record reportedly features collaborations with Iggy Pop, Red Hot Chili Peppers' Chad Smith and Flea, Josh Klinghoffer, and Jesse Tobias. Miley Cyrus was also due to feature on a track titled I Am Veronica, but the pop artist allegedly requested to have her vocals removed from it.
In a post on Morrissey Central made on 14 June, the controversial artist left a message which states, "It's a clear display of how censorian the music industry has become. It is a new part of the music industry that does not work and that nobody likes."
He adds, "Music should be the primary democracy, as all art should be, and any effort to keep people away from it simply invites deeper discussion. There is no point banning Bonfire of Teenagers because somebody somewhere might be offended if they heard it. Why waste time on other people's mental incapacities?
"And where is Capitol's support for the kids who were murdered in that Manchester bonfire on 22 May 2017 [referring to the Ariana Grande concert terrorist attack]? Although Capitol claims to be a label of 'diversity' it is very difficult to see their humanity. If you are only prepared to release music that draws people's minds away from thinking then you are unfit for any contact with creative people," the ex-The Smiths frontman says.
Morrissey also shared his belief that writing music should be an "unrestricted" form, and said that "civic structure of Capitol now appears fascist", before concluding: "I still have hope in the music industry, but there are evidently several powerful faces within it that have no honest interest in music … and you follow them into the shadows at your peril."
The post Morrissey calls Capitol Records "fascist" as album Bonfire of Teenagers remains unreleased appeared first on Guitar.com | All Things Guitar.
Source: www.guitar-bass.net