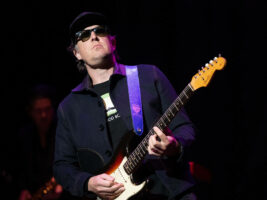 Joe Bonamassa says "nobody will even give me a second glance" without sunglasses
Joe Bonamassa says his sunglasses look is so iconic that he doesn't get a "second glance" without them.
READ MORE: It looks like we're about to find out the identity of The Churnups, the mystery band on 2023's Glastonbury lineup
The blues virtuoso explained in a recent YouTube interview with drummer Kenny Aronoff that he wore them once to shield his eyes from stage lights, and the rest is history.
As for the suits he now famously pairs the glasses with, that came after his producer called him a "slob".
JoBo told Aronoff: "So, when I'm on stage now, there's two spotlights centerstage, coming in hot. So I use glasses… so I can concentrate. When I get offstage, I don't wear the glasses. I'll walk around, anywhere, anytime, [wearing] the baseball cap, no glasses. And nobody will even give me a second look, even outside of my own concerts… And then it just became a thing.
"In 2006, My producer Kevin said, 'Hey, listen, you need to start dressing better than your audience. You look like a slob up there sometimes.' And I was like, 'Oh, don't worry about [it, I'll wear] jeans and a t-shirt.' And he goes, 'That's not star time. Ask your friend BB King, he dresses up.'… Next thing you know, I became the guy in the suit with glasses."
Watch the full interview here:
Most recently, the blues maestro also made a comment about social media guitar playing, claiming it's "not the lifestyle I want to live".
 
It comes after the prodigy broke into the industry at just 12 years old when he performed as a support act for BB King.
Since then he's released 15 solo albums – 11 of which have reached Number 1 Billboard Blues chart – and played a masterful number of live shows (it's impossible to know just how many) up until now.
The post Joe Bonamassa says "nobody will even give me a second glance" without sunglasses appeared first on Guitar.com | All Things Guitar.
Source: www.guitar-bass.net