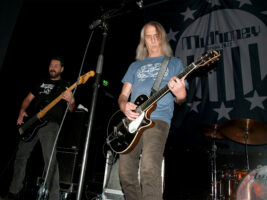 Mudhoney announce new record, Plastic Eternity, coming this Spring
Mudhoney are set to release their 11th studio album, titled Plastic Eternity, this Spring which will be shortly followed by a tour.
READ MORE: Mudhoney's Mark Arm on clash with Johnny Rotten: "It was weird to find out that someone you looked up to was pompous"
The album will arrive on 7 April 2023 via the Sub Pop record label, and the quartet will perform several headline shows on a tour of Australia to accompany its release, which will kick off on the 14 April.
The band said in a statement (via Consequence) that their songwriting process shifted as a result of the COVID-19 pandemic and the speedy recording sessions which followed. As opposed to "standing in a room and looking at each other and playing," vocalist and guitarist Mark Arm stated that the band now "had the time and space to think about things as we were doing them, and to make a kind of course correction — to use a fucking terrible cliche."
The record's first single, Almost Everything has been released to accompany the announcement. Arm said that the lead single was originally known as Gopal, adding: "It had been sitting in the recording device at our practice space for years and we avoided erasing it because we always loved its swinging Escalator groove."
You can check it out below:
See the full list of tour dates and find out more at mudhoneyonline.com
The post Mudhoney announce new record, Plastic Eternity, coming this Spring appeared first on Guitar.com | All Things Guitar.
Source: www.guitar-bass.net