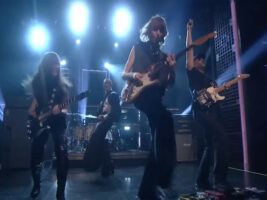 Watch: Måneskin and Tom Morello wow on The Tonight Show with performance of Gossip
Måneskin and Tom Morello took to the stage on The Tonight Show Starring Jimmy Fallon last night (26 January), and dazzled viewers with their impressive guitar work.
READ MORE: Måneskin on sex appeal in rock music: "We don't feel we should restrict ourselves"
Their new album, RUSH!, was released on 20 January, and the news of Morello featuring on single Gossip broke back in December when the band shared a snap alongside the Rage Against The Machine guitarist to their social media:
View this post on Instagram
A post shared by Måneskin (@maneskinofficial)
The impressive new performance saw Morello with his Sendero Luminoso Telecaster alongside Thomas Raggi on his '63 Fender Relic Strat, and the two appear to have truly captivated viewers amongst the energetic stage presence of fellow members Damiano David, Victoria De Angelis, and drummer Ethan Torchio.
Take a look below to watch as the two pull off a spectacular dual solo:
On YouTube, users commented that the guitar solos were "incredible" and referred to the band as "a force of nature" on stage.
Earlier this week, Måneskin addressed criticism that they're not a serious rock band, vocalist David replied, "I would say traditional rock fans aren't our target."
Bassist De Angelis added: "When we play, people can be like: 'This is not real rock because it's on TV, so it's shit!' We don't care about it, because if you're really passionate about music you should judge the music and not where it comes from."
She continued, "It's not our goal to convince rock 'n'roll fans that we're real rock. We're just doing our own thing. Especially when we've had the pleasure of playing with legends like Iggy Pop, the Stones, Guns N' Roses, and even they don't think about it, so other people shouldn't either.
"At least we're not playing trap or hip-hop!" she boldly said.
RUSH! is out now, you can stream below:
The post Watch: Måneskin and Tom Morello wow on The Tonight Show with performance of Gossip appeared first on Guitar.com | All Things Guitar.
Source: www.guitar-bass.net