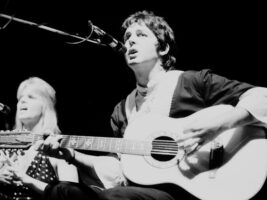 New Man on the Run documentary to explore Paul McCartney's career after The Beatles
A new documentary movie has been announced, which will explore Paul McCartney's career after The Beatles, when he was releasing music as part of the band Wings.
READ MORE: Joe Bonamassa to release performance from Red Rocks Amphitheatre
The upcoming documentary was announced earlier today (6 February), and will be directed by Oscar and Grammy winner Morgan Neville.
Entitled Man on the Run, the premise of the film will centre around "Paul McCartney's extraordinary life following the breakup of the Beatles," according to a statement (reported by Ultimate Classic Rock).
Similarly, the project will provide viewers with a previously unseen insight into how his relationship with his wife "influenced a journey that would lead to the formation of Wings and more of the greatest music ever created."
Both Paul and Linda McCartney formed Wings in 1971, one year after the musician announced his departure from the legendary rock band.
Details regarding the production and release dates have not yet been announced. However, it has been confirmed that the documentary will feature unseen archive material, as well as a range of brand-new interviews.
Discussing his inspiration to create the documentary, Neville stated that he was always a fan of McCartney's work with Wings, and felt that it was an aspect of the musician's life that is often overlooked.
"As a lifelong obsessive of all things McCartney, I've always felt that the 1970s were the great under-examined part of his story. I'm thrilled to have the chance to explore and reappraise this crucial moment in a great artist's life and work," he said (via Far Out).
"I was too young to buy Beatles records when they came out, but I could buy Wings records, and I loved them. To me, the story of what happened to Paul McCartney in the wake of The Beatles when he had to rediscover himself is the story that has never been told."
The post New Man on the Run documentary to explore Paul McCartney's career after The Beatles appeared first on Guitar.com | All Things Guitar.
Source: www.guitar-bass.net