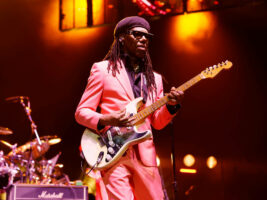 Nile Rodgers: "AI sounds like the noise we've been hearing all our lives"
Nile Rodgers has weighed in on the ever-growing discussion surrounding AI, and the wider relationship between technology and music.
READ MORE: Steve Lacy on the Boss ME-80: "I don't really care if people shun things like this because they work so well for me"
Speaking to The Daily Star's Wired column, the Chic guitarist explained that the fear around AI was very much the same as the fear around drum machines a few years ago,
"I hear people talking about fake stuff," he says. "That sounds like noise to me. That sounds like the noise we've been hearing all our lives. The drum machine and sequencer have been wonderful tools. There are bands that could never have had a record if it wasn't for a sequencer."
Instead, he cites Avicii as an example of an individual who embraced technology, rather than feared it.
"I used to work with Avicii and Avicii didn't understand tertiary harmony. He would write the most beautiful songs without knowing what he was doing – his ear was telling him what to do.
"How could he do it? Because he had gear. His gear allowed him to do that. His equipment allowed him to express himself."
While Avicii passed away in 2018, aged 28, Rodgers and Avicii did record together back in 2013. However, their collaboration was never released.
In more Nile Rodgers news, he recently announced that he is working with St. Vincent on new music.
The Chic guitarist took to Instagram back in January to share a photo of the pair, revealing that he is "working on new music with St. Vincent", before referring to her as "so real deal" and "f-ing wonderful. I'm trying to not lose my mind too!"
"Somehow she was introduced into my life only a few months ago," says Rodgers. "I started to go back and listen to the work she had done with my old engineer and she started sending me some new stuff. I was like 'wow! That's really cool.'"
The post Nile Rodgers: "AI sounds like the noise we've been hearing all our lives" appeared first on Guitar.com | All Things Guitar.
Source: www.guitar-bass.net