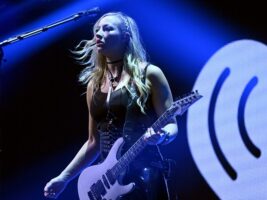 Nita Strauss announces North American solo tour this summer
Nita Strauss is hitting the road this summer with her own solo project, and will be performing new material on the road.
READ MORE: Cesar Gueikian named President/ Interim CEO of Gibson, James Curleigh steps down
The Summer Storm Tour is set to feature songs from her upcoming second solo album, as well as her previous hits. The tour will also include support from Lions at the Gate, a new metal band featuring former members of Ill Niño, and will kick off on 13 June in Nashville, Tennessee, and run through 14 July in New Orleans, Louisiana.
Strauss is also set to perform in cities such as Atlanta, Brooklyn, Toronto, Denver, Los Angeles and more on the tour.
Strauss is also a member of Alice Cooper's touring band, which she rejoined earlier this year after a brief stint with pop star Demi Lovato. She will be performing with Cooper on select dates this spring and summer, including festivals such as Welcome to Rockville and co-headlining shows with Rob Zombie.
Cooper has also revealed that he has new music in the works with his touring band, sharing that he set one rule before the group began writing. "I said, 'Everything has to be done in the studio live because the whole idea of this album is showing off how good this band is live.' So when you hear this album, it sounds like a studio album, but it's actually them playing live in the studio," Cooper revealed, though he did not share any information on the record's release date.
Strauss' own debut solo album, Controlled Chaos, which was released in 2018, reached No. 1 on Billboard's Heatseekers chart. For information about the Summer Storm Tour, head to Nita Strauss' website.
The post Nita Strauss announces North American solo tour this summer appeared first on Guitar.com | All Things Guitar.
Source: www.guitar-bass.net