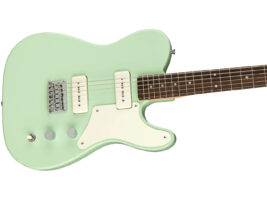 Sorry, flippers: Squier's Baritone Telecaster is here to stay
Squier Baritones have gained a somewhat loathsome reputation in recent years: not for their build quality or playability, but if anything the opposite: they're just really hard to come by.
A limited run with a high coolness factor makes fertile ground for flipping. However, the most recent Squier Baritone is set to avoid that fate, instead becoming part of the brand's core line along with the rest of 2020's Paranormal launch. The guitars are also getting some new colours to celebrate.
READ MORE: "This flipping is out of hand": Chase Bliss calls out pedal profiteers, is "done" with limited releases
Take the limited-edition Squier Baritone Jazzmaster. At around the $350 mark new, huge demand thanks to a certain band (and the general resurgence of baritones), pushed used prices to well over $900. Whether that's just market forces in action or unfair flippers looking for a quick buck is down to your personal interpretation of economics.
Just before the relaunch of the 2020 Paranormal range, there was only one listing for the Paranormal Baritone Telecaster on Reverb.com – with an original asking price of £800. That's a guitar that was made last year, asking for over twice its original price.
Luckily for those in the market for them, the 2020 Paranormal range has been reintroduced as part of the standard line. They're set to hit shelves in October. The first look at their new colours is below. See full specs for the range here.
1 of 13
All images: Fender
The post Sorry, flippers: Squier's Baritone Telecaster is here to stay appeared first on Guitar.com | All Things Guitar.
Source: www.guitar-bass.net