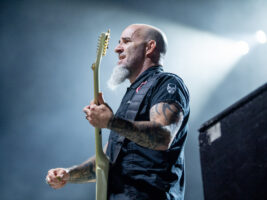 Stars on Fender's Game of Thrones video didn't get to keep the instruments, says Scott Ian
The stars who participated in Fender's viral Game of Thrones theme song cover video back then did not in fact get to keep those prized guitars, according to Scott Ian.
READ MORE: Fender's eagerly anticipated Tone Master Pro has arrived – and it's loaded with over 100 of the world's most popular amps and effects
The video, released in 2019 to promote the Fender Custom Shop Sigil Collection of Games of Thrones themed guitars, has since amassed more than 40 million views, though the Anthrax guitarist says in a recent fan Q&A that none of the artists featured — Tom Morello, Nuno Bettencourt, Brad Paisley and himself — actually got to bring home those bespoke six-strings.
"We all thought that that was kind of going to be the thing at the end of the session," Ian says [via Guitar World]. "That we would each get to have the one we played, because [usually] that's what happens."
"I'll let you in on a little secret," Ian adds. "A couple of weeks later, we all get a very nice email from Fender… about how many millions of views this thing has gotten and how many of these custom, very expensive [guitars they sold].
"Like very expensive, like I think the Lannister one was like 40 grand or something [The guitar costs $30,000]."
"They sold a fuck-ton of these custom-built guitars based on this video and they're like, 'Thank you so much for doing this for us,' and all that."
"So I get a text from Nuno, not five minutes after these emails… and he's like… 'These motherfuckers!' He goes, 'I just did the math. They made about nine-million dollars on this fucking video we made and they couldn't even give us a guitar!' I'm like, 'Hey brother, you're preaching to the choir! I'm with you.'"
Despite the exchange, Ian maintains that he has "nothing bad to say about Fender": "I play Jackson guitars and EVH amps and it's all under the Fender umbrella and they've treated me very, very fantastically over the years."
Though that does not stop the musician from wishing that he'd got to hold on to the guitar — which is completely relatable given how stunning they look (and sound).
Image: Fender
"Damn it, I want one of those," Ian quips. "Because I was playing that Stark Telecaster and it sounded great."
The post Stars on Fender's Game of Thrones video didn't get to keep the instruments, says Scott Ian appeared first on Guitar.com | All Things Guitar.
Source: www.guitar-bass.net