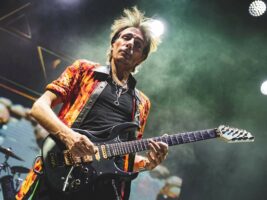 Steve Vai says "you're lucky if you break even" touring post-pandemic
Steve Vai has opened up about the financial issues he has suffered in the music industry post-pandemic.
READ MORE: You can now enter Glastonbury Festival's 2023 emerging talent competition
In an interview on Talkin' Rock with Meltdown on WRIF, a rock station in Detroit, the guitarist spoke about the impact that no gigs over the pandemic had on artists, both big and small.
"Some bands actually cancelled some of their European tours as recently as this past year, just because they couldn't make it work [financially]. It's remarkable. You know, before you do a tour, you get all the gigs, you get the guarantees, and you look at what your bottom line is. And it's changed, brother.
"First of all, unfortunately, the promoters are challenged in paying what they used to pay. And it's just so much more expensive. I mean, these buses and the fuel and shipping gear to your home. Oh my god, I couldn't believe it. You're lucky if you break even. I have a lot of friends that are cancelling – big bands – because they just can't get the numbers to balance."
He also shared his own experiences of the Inviolate tour which took place in 2022 and took him over the US and to Europe.
"By the time the record was released, everything was starting to open up. But it was kind of iffy. It was really weird – you book a tour, and then COVID would spike, and you have to cancel the tour. And then, trying to get out on tour after COVID was incredibly difficult for musicians, because everything was kind of deranged.
"You couldn't get a bus. All the buses sat for two years, and the bus drivers went to drive trucks. You couldn't get a bus driver, you couldn't get gear, you couldn't get help. And it was really difficult – that European tour I did was the most challenging tour I've ever done. But we got through it. And now things are getting oiled and are starting to come back together nicely.
You can listen to the full interview on WRIF.com
The post Steve Vai says "you're lucky if you break even" touring post-pandemic appeared first on Guitar.com | All Things Guitar.
Source: www.guitar-bass.net