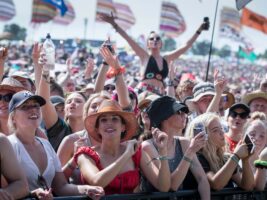 You can now enter Glastonbury Festival's 2023 emerging talent competition
Glastonbury Festival's 2023 emerging talent competition is now open for entries for one week only.
READ MORE: Sharika's guitars to be displayed at the Grammy Museum
The iconic and historic Somerset festival has opened up the main stage to emerging artists from the UK or Ireland for the 2023 season, allowing young and budding musicians to perform amongst the likes of Elton John, and Guns N' Roses.
According to the Glastonbury website, the competition is being supported by PRS for Music and PRS Foundation, who has also been in support for a number of years.
The winners of the competition, which is free to enter, will also be awarded a £5,000 Talent Development prize from PRS Foundation to help take their songwriting and performing to the next level. Two runners-up will also be awarded a £2,500 PRS Foundation Talent Development prize, so even if you don't end up on the big stage, there are still prizes available.
The competition has opened today and will be open until Monday 6 February at 5pm, so there is only one week to make submissions.
Once the entries are in, a panel of the UK's best music writers will compile a 90 act longlist, which will then be narrowed down to a shortlist of eight artists by judges which include Glastonbury organisers Michael and Emily Eavis. There will then be a live final in Pilton, which is where the festival takes place to decide the winning act.
"Showcasing new music is a hugely important part of what we do at Glastonbury, and the Emerging Talent Competition has helped us to discover so many incredible artists over the years," says Emily Eavis "It's amazing to be able to offer this platform to some of the brightest talent out there, and I can't wait to hear this year's entries!"
To enter, acts need to supply a YouTube link to one original song, as well as a link to a video of themselves performing, even if it is only just in a bedroom.
Glastonbury has warned that any duplicate entries may be rejected, so make your own entry count.
For more information about how to apply, you can visit GlastonburyFestivals.co.uk
The post You can now enter Glastonbury Festival's 2023 emerging talent competition appeared first on Guitar.com | All Things Guitar.
Source: www.guitar-bass.net