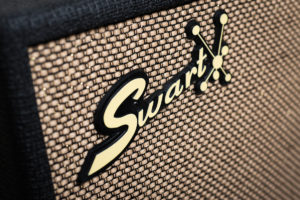 Swart Antares
This boutique maker claims its new amp combines the best of its other amps in a package that's also totally unique. Confused? Huw Price finds out if Swart can keep it sweet…
We have a lot of time for Michael Swart's retro-inspired creations, because in addition to their gorgeous tones, the amps don't take the obvious route in terms of styling. For instance, last year we looked at the MOD 84 – an amp inspired by the Vox AC15 and fitted with EL84s… but with vintage Americana cosmetics. It's the same story with Swart's latest creation – the Antares has the black and gold appearance of a classic Brit combo, but with 6V6s pushing 18 watts, it's American on the inside.
The Antares aims to combine the best bits of Swart's Atomic Space Tone and MOD 84 amps to create something versatile and exciting. Fittingly, the 18-watt power rating sits between the MOD 84's 15 and the AST's 20, and like the latter, the Antares can be run with 6L6s too. You can also swap between 5AR4, 5Y3 and 5U4 rectifiers to alter the voltages, and therefore the amp's feel and breakup characteristics. It also promises a bigger reverb sound, deeper bottom-end, a new custom output transformer and three-way EQ inspired by the MOD 84, the tube-biased tremolo from the AST and a tube-driven spring reverb.
Like many newer Swarts, the Antares has top-mounted controls, and the solid pine cabinet contains a Celestion G12H Creamback with 75Hz bass resonance. Although not that tall, the cabinet is very wide for a 1×12, so there's a lot of air around the speaker. The circuit is a mixture of point-to-point and turret board wiring, and the main components are Mallory 150 capacitors and carbon composite resistors.In Use
With really good amps, you can swap between guitars without needing to alter the controls in any significant way – if at all. Granted you'll notice the difference in tones, but there's no imperative to tweak the treble or re-balance the gain structure. The Antares is one such amp and once you've it dialled in, it somehow gets on with the job of bringing out the tone of each instrument. Such is its inherent balance, if you do struggle when changing guitars, it might be that the guitars need adjustment rather than the amp.
We start with a Strat plugged into the high input, the tone and volume set about half way and all the effects controls turned down. As with the MOD 84, we find the loudest tone setting with the widest frequency range comes with the voicing switch in position three.
Immediately we're met with the full, detailed and balanced tone that we have come to expect from Swart amps. There's a pleasing pop at the front of notes, that stops short of being spiky, and such is the natural spaciousness of the sound, we find ourselves double-checking that the reverb is fully off. It's a subtle thing, but this natural 3D quality is something we've noticed from some really good tweed-style amps.
Even so, we dial in some reverb and things get even better. Swart's reverb never disappoints and it's quite unlike vintage Fender spring reverb. Swart's is a full-frequency effect that somehow gels with the dry guitar while remaining distinct. We suspect the space control comes after the reverb tank, so the guitar signal going into the reverb remains unaltered. This means the reverb never gets splashy or grainy, and the character of the effect remains unaltered irrespective of where the space control is set.
It sounds more like a high-end studio spring unit, and it's one of the few amp reverbs we enjoy playing when set at maximum. Selecting the Strat's in between position and picking with fleshy thumb and fingers, it's a dead ringer for Knopfler's tone on the first Dire Straits album.
The tremolo is no less impressive, with well-chosen speed range and a depth capability that can go from a subtle shimmer to staccato and all points in between. Used alone, you can detect a slightly swirly quality with a subtle hint of frequency sweep that could fool the ear into thinking there's pitch modulation going on, too. Combine this with reverb and the effect is borderline hypnotic.
Amps with single tone and volume controls are often damned as 'not versatile'. Much depends on how you would define 'versatile', but if you know what you're doing you can extract a wide array of tones here.
Even before experimenting with the voicing switch, the Antares is revealed as a flexible feast of tone. With the tone maxed and the volume set low, the amp sounds sparkly and snappy but also full. This is where you can find your funk, country and clean blues tones.
As the volume increases, there's a gradual midrange thickening with a hint of harmonic texture creeping in as overdrive comes in gently. The headroom impresses, because things stay pretty clean with single coils until almost half volume. Dial back the tone and things quickly change. You can almost picture the EQ curve as the sparkle frequencies drop off and an upper mid bark begins to assert itself. This tonal balance is retained as volume increases and overdrive gets stronger.
As with the tremolo and reverb controls, the volume and tone remain usable across their entire ranges. With both maxed out, the Antares delivers heavy overdrive with tremendous clarity. Swing tone fully anti-clockwise and you get the sort of chewy and smooth saturation you might associate with octal preamp tweeds or a late-50s Gibson GA40. This is where the tone switch provides some precision shaping. If you find the lows a tad thick, flick the switch to position one and things tighten up considerably. If that emphasises the upper mids and treble a little too much for you, select the centre position and things sweeten without losing definition.
The voicing switch is particularly impressive because it provides tone shaping without being part of a regular tonestack – despite Swart calling it an 'EQ switch'. Instead it alters the way the preamp valve is biased and so, determines which regions of the frequency spectrum are amplified and by how much. At no point is the actual guitar signal passing through the biasing circuit.
The switch itself feels a little flimsy, but other than that, we can find no fault. The Antares is yet another undeniably great Swart amp, which means it's about as good as it gets for roots styles, ambient rock and more besides. It's not exactly cheap, but it's worth it.
KEY FEATURESSwart Antares
• PRICE £2,099 (inc trem/reverb footswitch)
• DESCRIPTION 1-channel cathode- biased valve combo with reverb and tremolo. Made in the USA
• POWER RATING 18w
• VALVES 2x 12AX7, 1x 12DW7, 2x 6V6, 1x 5AR4
• CONTROL PANEL Power, standby, hi/lo input sockets, 3-way EQ switch, volume, tone, space, speed, depth
• SPEAKER 1x Celestion G12 Creamback
• DIMENSIONS 584 x 406 x 228mm
• WEIGHT 16.7kg/37lbs
• CONTACT Coda Music 01438 350 815, www.coda-music.com, www.swartamps.comThe post Swart Antares appeared first on The Guitar Magazine.
Source: www.guitar-bass.net