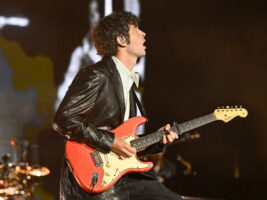 The 1975 are working towards resolving dispute with Malaysian festival organisers
The 1975's legal team are supposedly working towards resolving the ongoing dispute with organisers of Malaysian festival Good Vibes after Matty Healy allegedly broke contract terms during the headline slot. This was after he kissed bandmate Ross MacDonald, while criticising the country's anti-LGBTQ+ laws.
READ MORE: Jeff Young says new Kings Of Thrash album with David Ellefson "will be better than anything Megadeth has done recently"
In footage from the event, Healy is heard telling the crowd that the band made a "mistake" performing there. He said, "When we were booking shows, I wasn't looking into it. I don't see the fucking point, right. I do not see the point of inviting The 1975 to a country and then telling us who we can have sex with.
"Unfortunately you don't get a set of loads of uplifting songs because I'm fucking furious. And that's not fair on you, because you're not representative of your government. Because you're young people, and I'm sure a lot of you are gay and progressive and cool."
Future Sound Asia (FSA) have since demanded that the whole band pay £2.1 million damages for breaking the terms during their performance at Good Vibes festival in Kuala Lumpur, which resulted in the whole festival subsequently being cut short.
The 1975 were also given a ban by the Malaysian Government.
The FSA has since given The 1975 seven days to respond to it's final warning. However, as of yesterday (16 August), a legal counsel for the FSA has given a statement to PA News, stating that the resolution for the situation is "now in progress".
"We are able to confirm that our lawyers have received communication from the band's solicitors and we are continuing to pursue the matter, as per our earlier statement," explains legal counsel for the FSA, David Matthew.
Following their performance at the Good Vibes Festival, Matty Healy has since criticised Muse's Matt Bellamy for removing a song from their setlist in Malaysia.
And more recently, Tom DeLonge posted a photo of he and Matty Healy embracing during the 1975's set at Lollapalooza, writing: "I guess myself and The 1975 won't be going to Malaysia".
The post The 1975 are working towards resolving dispute with Malaysian festival organisers appeared first on Guitar.com | All Things Guitar.
Source: www.guitar-bass.net