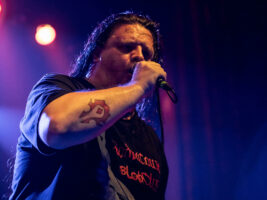 The Official Cannibal Corpse Colouring Book has already been banned in Germany
Cannibal Corpse are due to release their first ever colouring book next month (1 December), and as you may have already assumed, it is indeed targeted at adults.
The gruesome book, called The Official Cannibal Corpse Colouring Book, consists of artwork by Vincent Locke, the artist behind several Cannibal Corpse's album covers. Due to its graphic imagery, the book has already been banned from sale in Germany.
READ MORE: "It was really snarly": Krist Novoselic on the Kurt Cobain solo he thought was "terrible"
Cannibal Corpse say it is the "first colouring book in history to come with a 'Parental Advisory' warning." The book is printed on high quality paper in a square format, and is officially licenced and fully endorsed by both Cannibal Corpse and Locke. Aside from Germany, it will be available for worldwide shipping.
It includes artwork from albums such as Tomb Of The Mutilated, Butchered At Birth, and Eaten Back To Life, right up to the band's latest record, Chaos Horrific. "The book contains some of the nastiest, sickest, gore-filled and blood-drenched designs ever!" Say the band online. "Working closely with artist Vince Locke, who personally curated the book, these images are not for the faint hearted."
Locke says in a statement, "Going over art for the book, it was surprising to see just how much 30 years of collaboration yielded. It's rare that I see it all compiled together. There are a few pieces that had to be included, some that were favourites of myself or the band, and some that just lent themselves well to colouring.
"I'm always playing, trying different materials and techniques. Hope you do the same with these colouring pages. Try watercolour markers, crayons, and coloured pencils, adding your own details. You'll probably get through a lot of red, but be creative, have fun, make it your own!"
Cannibal Corpse bassist, Alex Webster, also adds: "This book is a great new way for Cannibal Corpse fans to enjoy the incredible artwork of Vincent Locke."
View this post on Instagram
A post shared by Cannibal Corpse (@cannibalcorpseofficial)
You can pre-order the colouring book for £12.99 now via Eyesore Merch.
The post The Official Cannibal Corpse Colouring Book has already been banned in Germany appeared first on Guitar.com | All Things Guitar.
Source: www.guitar-bass.net