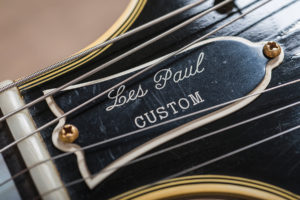 Vintage Bench Test: 1956 Gibson Les Paul Custom – Custom Fit
The black-lacquered, jazz club sophistication of the earliest LP Custom takes more of its styling cues from Steinway than Stromberg. Huw Price steps out with a grand '56 model…
Introduced in late 1953, the first Les Paul Custom differs from the standard Goldtop model in three ways – an all-mahogany body, a fully intonatable bridge and a 'staple' single-coil pickup in the neck position. The latter seems to have been an attempt to keep the man whose name was on the headstock on-brand – early photos of Les Paul using his signature model reveal that he'd installed a DeArmond Dynasonic in the neck position of his Goldtop, and Gibson was not pleased.
Les Paul was such a superstar, the fact that he felt the need to mod his new signature solidbody with an aftermarket pickup was obviously an embarrassment for the company, so something needed to be done.
The ABR-1 bridge and stop tailpiece have lost a fair bit of their gold plating due to years of playing
It may have rectangular rather than round polepieces, but the staple single-coil was essentially Gibson's version of the Dynasonic, with individual screws for adjusting polepiece height. The diagonal fixing screws are a throwback to the earliest Goldtops, and all the magnets are alnico V.
Complete with its original gold-lined black case, this 1956 example shows few signs of age, although the waffle-back tuners are a little vague and some of the shafts have been bent over the years. The neck carve doesn't quite have the palm-fitting comfort of some of the finest 50s Gibsons we've played, but it's still a very nice rounded profile, with very little shoulder and less depth than you might expect.
The 'staple' pickup was created after Les Paul modded his Goldtop with a DeArmond Dynasonic pickup
There are a few lacquer chips on the back of the neck and headstock edges, but the body is remarkably unscathed. Lacquer checking is minimal and besides some slightly opaque cloudiness on the front, the finish looks remarkable. The ebony fingerboard and pearl inlays are in perfect condition and there's still some height left on the skinny, flat-topped frets.
The only telltale signs that this guitar has seen a lot of action are the way the neck binding has been worn into a rollover that runs evenly along both sides, and some plectrum damage to the bass side binding adjacent to the neck pickup. The control cavity contains oil-filled Bumblebee capacitors and nothing has been touched since it left Kalamazoo.
The pinstriped body binding has yellowed in places, but is otherwise in good nick for a guitar of this age
In Use
The all-mahogany body doesn't have as much effecton the acoustic resonance as you might expect. It's possibly a bit richer in harmonics than most Les Paul Standards, but nowhere near as loud or lively when unplugged as a '54 Goldtop equipped with a wrapover tailpiece. On balance, our experience seems to indicate that the ABR-1 bridge arrangement has more influence on the tone than 'tonewood' does.
Although identical in dimensions and similar in looks, the pickups on this guitar are sonically quite different. The commonly used term 'staple P-90' is perhaps a misnomer, because this is very much its own thing. Comparing the staple with a neck P-90 in a '54 Goldtop demonstrates that the former is a very powerful pickup. Despite being set significantly lower than the P-90, the staple matches its output and then some. But for a high-output pickup, there's no shortage of clarity and in fact, this one sounds airy and bright.
It goes deeper in the bass frequencies, too, but it never loses focus or definition. Jazz chord inversions are presented with piano-like clarity and tremendous detail. Such is the frequency range, the controls have more to work with than usual, and the variety of tones on tap may surprise you. As much as a guitar pickup could perform more like a microphone during the mid 1950s, this is probably as good as it gets – along with the DeArmond Dynasonic. And as we have already discussed, aping that design is really what the staple pickup design was all about.
As an audio engineer, Les Paul valued high fidelity and sonic purity above everything else, and they're certainly a big part of the staple's appeal. But it also has bags of character, with ample bass thump and a prettiness in the treble that keeps things musical and interesting. Les would later go even further in the hi-fi direction with his low-impedance pickups, but to modern ears, they sound a bit bland and sterile compared to these.
Maybe Gibson only fitted one staple unit because they were costly to manufacture, and they figured the jazz guys weren't that interested in bridge pickups anyway. It's a mismatch made in heaven for us, however, because the versatility and sonic spread of this LPC are far greater as a result. Switch to the bridge and of course you get that great mid-50s P-90 tone. Hi-fi it's not: but if snarly and growly nasal chime does it for you, this LPC doesn't disappoint.
The two pickups need some adjustment to balance out, with the P-90 set way closer to the strings, but once they're set you can switch back and forth seamlessly. Better still, these two pickups meet in the middle to create a third, very distinct, tone.
The Custom was created by Gibson in response to Les Paul's desire for a more luxurious looking guitar
The Staple adds high- and low-frequency content to the P-90's wiry mid-focused roar – along with a greater sense of articulation and detail. There's also a pronounced midrange scoop that notching back the neck volume rapidly accentuates.
Get the balance right and you can veer towards a pseudo 'out of phase' tone that combines T-Bone Walker honk with a hint of Ricky jangle. Leaving the neck volume on 10 and rolling back the bridge is like applying a notch filter, with the scoop occurring lower in the frequency range. So the tone still has a phasey quality, but it's fuller, smoother and sweeter. Even by the high standards of 50s Les Pauls (no pun intended), this is an unusually versatile and sophisticated instrument.
The finish is in very good condition all over the guitar, with the most noticeable lacquer checking around the headstock logo
Unlike the hooligan Goldtop, the Les Paul Custom reveals its charms gradually. This was designed to be a classier, more upmarket instrument, and by and large, it is. The Custom reputedly came about because Les requested a guitar that was like a tuxedo. While many of us might enjoy wearing a tux from time to time, the novelty value would be lost if we had to wear one every day… much like a jobbing jazz musician.
On the whole, that analogy fits in well with how we feel about this guitar. It oozes quality and feels wonderful, but as an everyday player, our desert island choice would still be a P-90 Goldtop of a similar vintage – if we could afford one, of course.
The Kluson tuners are one of the few aspects of the guitar that are showing signs of age, and some of the shafts have been bent over the years
Having said that, we think this Custom might be a secret weapon in the studio, because its clarity and well-mannered dynamics would make it so easy to record, and you could dial up myriad tones that are familiar and yet just that little bit different. The tuners could do with a refurb and some might suggest a refret is in order, but we think it's fine as it is.
Overall condition is excellent and, as far as we can tell, the only non-factory items are the strings. The Staple Custom is an interesting and unfairly overlooked model in the Lester lineage, and we wonder how many examples out there are as good as this one…
The internal wiring hasn't been touched since the guitar left Kalamazoo, and the Bumblebee capacitors are all original
KEY FEATURES1956 Gibson Les Paul Custom
• PRICE £24,995
• DESCRIPTION Solidbody guitar. Made in the USA
• BUILD Mahogany body with set mahogany neck, ebony fretboard with pearl markers, 22 frets
• HARDWARE Kluson waffle-back tuners, Tune-o-matic bridge with stop tailpiece
• ELECTRICS Staple single-coil (neck), P-90 (bridge), individual pickup volume and tone controls, 3-way switch
• FINISH Black nitrocellulose
• SCALE LENGTH 625mm/24.63"
• NECK WIDTH 42.7mm at nut, 53.05mm at 12th fret
• NECK DEPTH 21mm at first fret, 24mm at 12th fret
• STRING SPACING 35.75mm at nut, 51.6mm at bridge
• WEIGHT 4.35kg/9.57lbs
• CONTACT ATB Guitars, www.atbguitars.comThe post Vintage Bench Test: 1956 Gibson Les Paul Custom – Custom Fit appeared first on The Guitar Magazine.
Source: www.guitar-bass.net