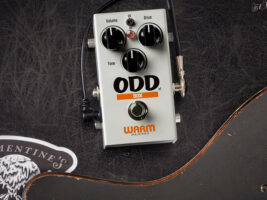 Warm Audio releases the ODD – a Fulltone OCD clone without the baggage
Warm Audio has launched the ODD Box V1 – a hard-clipping overdrive pedal which emulates the legendary but now somewhat polarising (and soon to be discontinued in its current form) Fulltone OCD.
READ MORE: Warm Audio Warmdrive review – bringing the Zendrive vibe to the masses
Described as "perfect for boosting, adding breakup, or adding high gain to cleans", the ODD features classic-inspired controls, including a UK/US Switch, to flip the personality of ODD from a "British" to an "American" tube amp.
The brand says it is true to its inspiration, and that it delivers the sound of massive, live electric guitar that attracted players like Billy Gibbons, Mark Hoppus, Eric Johnson, J Mascis, Paul Gilbert, and more to that open tube amp sound.
It's built with through-hole construction and hosts a TLO82CP Op-Amp, 2N7000 transistors, and hand-selected capacitors and resistors. On the face of the pedal dials for volume (which acts as a master output), drive (controls the amount of clipping), and tone are situated, and yes, the logo is in Comic Sans…
Check it out below:
The OCD has been a boutique overdrive staple for decades, but the brand has endured a difficult couple of years. Back in 2020, Fulltone founder Michael Fuller faced backlash after he criticised looting during George Floyd protests due to the Black Lives Matter movement in a since deleted Facebook post.
Following the controversy, Fulltone products were pulled from Guitar Center stores and its website (though Fulltone claimed it had already terminated its dealership with the brand months before), and new Fulltone sales were also suspended on Reverb.com.
Last year, Fuller announced that he would be closing the California factory that has been making Fulltone pedals for over 30 years and ending large-scale production. Then, in May 2023, Fulltone announced that it would sell off its final pedals built in the California outlet, but would be relocating to Nashville with new products said to be on the way in the near future.
Warm Audio has earned a reputation for creating extremely faithful recreations of hard to find guitar pedals at more affordable prices in recent years – including the Klon Centaur and Zendrive – and the ODD shows that there's no sign of that stopping any time soon.
The ODD has a current MSRP of $119. Find out more on the Warm Audio website.
The post Warm Audio releases the ODD – a Fulltone OCD clone without the baggage appeared first on Guitar.com | All Things Guitar.
Source: www.guitar-bass.net