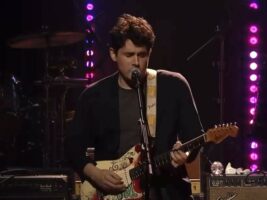 Watch: John Mayer reunites with trio for the first time in six years
John Mayer has reunited with his blues trio, Steven Jordan and Pino Palladino for the first time in six years, and lucky for us it has been captured for the world to see.
READ MORE: Bono admits ever U2 member has "thought about walking away" from the band
The John Mayer Trio was brought together in 2005, and saw the release of the live album Try! in the same year.
The reunion took place at the seventh annual love Rocks Benefit Concert on 9 March, which marked the first time the trio had played together since 2016, when they graced the Apollo Theatre in New York for a one off performance.
However the surprises did not stop there, as the Continuum singer and guitarist also pulled out his Fender Jimi Hendrix Monterey Stratocaster. Seeing Mayer play a Strat is a huge throwback to when he was a Fender artist, before making the shock exit from the manufacturer in 2014. This was before he became signed by PRS, and he released his famous PRS SE Silver Sky.
You can watch the full set below:
Mayer has just kicked off his North American tour, starting in Newark, New Jersey. So far it is getting rave reviews and showcases some amazing axes, from the aforementioned Jimmy Hendrix strat, as well as a Martin custom double-neck guitar.
The Tim Teel-built Martin Custom Shop 12-string / six-string combo was first seen at NAMM in 2010, but there's no specific details about the wonderous guitar available.
Mayer's solo arena tour continues this evening (13 March) in Boston, Massachusetts so keep your eyes peeled for more interesting guitar sightings.
The post Watch: John Mayer reunites with trio for the first time in six years appeared first on Guitar.com | All Things Guitar.
Source: www.guitar-bass.net