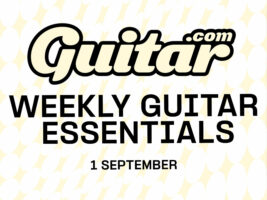 Weekly Guitar Essentials: Mannequin Pussy, Sprain, Goat and more
Welcome to the Weekly Guitar Essentials! A roundup of 10 of last week's best guitar-driven tracks, featuring the biggest guitar bands on the planet to your new favourite underground discovery. You can follow the playlist on our Spotify, or check out each track in more detail below!
Mannequin Pussy – I Got Heaven
Mannequin Pussy literally have the perfect EP to follow, but if this is what we can expect from the band's new music in two years, they might just pull it off. I Got Heaven has it all – it's jangly, aggressive, weird, intense and catchy, and there's an amazingly blasphemous line less than a minute in. Just listen to it already.
Kvelertak – Endling
Kvelertak exist in a sort of heavy metal superposition, playing a fast and scrappy combination of punk, black metal, and rock 'n' roll – and the title single off their new LP Endling is a great example of their appeal. Think Blue Oyster Cult, if they'd somehow heard a Darkthrone album before they went to rehearsal one day.
New World Man – The Beast Is Back
A hardcore supergroup named after a Rush song? The only thing that could make that better would be album art and production that make you feel like you've just uncovered a beer-stained, faded cassette behind a venue toilet's cistern.
Sprain – Reiterations
Like if KEN Mode listened to more Slint and Swans. Spacious, and experimental, the whole album is full of visceral guitar textures, roomy snare hits and string parts that range from beautiful to terrifying. If that's not enough to have you devouring it already, listen to the sweeping, heavy Reiterations.
Slowdive – andalucia plays
Shoegaze royalty Slowdive are back with a whole album, and it's of course wall-to-wall with gorgeous, layered texture work. andalucia plays is a particularly soupy middle-of-the-album cut with more shimmering echoes than you could shake a rack-mounted Yamaha reverb at.
Osees – Blank Chems
Osees, Thee Osees, OCS – whatever they're called this week, you can rely on John Dwyer to deliver a weird, gonzo psych-rock record every time. Each album is imbued with a new flavour, and here we have a focus on warbly synths – although as Blank Chems indicates there's still plenty of guitar-freakouts to get yer teeth into.
Goat – Unemployment Office
The fuzzy, chugging guitar that forms the backbone of this new Goat track persists throughout the entire song, crunching away like a lawnmower engine. At no point does it get any less enjoyable to listen to.
Jeff Rosenstock – SOFT LIVING
Jeff Rosenstock is always a fun time, and his new album HELLMODE embraces the hell with even more chaos added to the mix than usual. SOFT LIVING is a particular highlight as sludgy guitars blast away underneath vocals that crackle with joyously despairing pop-punk energy.
Speedy Ortiz – Ranch vs. Ranch
Variety, they say, is the spice of life. So if you're going to have noisy, spiky guitars, they might as well underpin laser-precise songwriting and hooky, nostalgic vocals from Sadie Dupuis. The band's whole new record Rabbit Rabbit is worth your time, but Ranch vs. Ranch is a standout cut.
Slomatics – Voidians
Belfast trio Slomatics have "slo" in their name for a reason. They're back this month with Strontium Fields, another slab of their black-hole-heavy sludge that's landing on 8 September. The reverb-drenched Voidians is our first taste of it, and boy, does it taste like good riffs.
Listen to the whole playlist on Spotify:
The post Weekly Guitar Essentials: Mannequin Pussy, Sprain, Goat and more appeared first on Guitar.com | All Things Guitar.
Source: www.guitar-bass.net