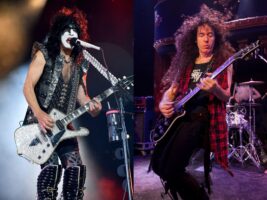 "Who Cares?": Marty Friedman on bands that use backing tracks
Former Megadeth guitarist Marty Friedman is apparently pretty okay with bands that use backing tracks during their live shows.
READ MORE: Guild launches the dual-humbucker-loaded Surfliner HH
Sharing his thoughts on bands that rely on pre-recorded tracks in a recent Cameo video (the app where fans can request a personalised video message from artists), Friedman said, "Who cares?"
Asked for his take on KISS' Paul Stanley, who's recently been accused of using pre-recorded tracks during live concerts, the guitarist replied, "I don't really know anything about that side of it — I don't know if he does or if he doesn't — but if you're caring about lip syncing and things that are going on, you can't go to any gigs anymore because even… indie bands are doing all kinds of stuff with tracks and click tracks and adding vocals and adding choruses and adding keyboards."
"So when you talk about bands that are playing arenas and stadiums, they are doing so much stuff that wasn't around in the original days of KISS. So if you get pissed off about something like lip syncing, then you can't go to anything anymore; you really can't."
"And it's singing," Friedman added. "Singing in KISS, I mean, it's not like you're going to see Celine Dion or something where you really give a shit how many octaves someone can sing. KISS is so many more things than just singing."
"I think people who are bagging on anyone for lip syncing or running tracks or any of that stuff… What are you gonna do? It's 2023," he continued
"Technology has allowed things to happen and things to evolve. And it's not 1976 anymore. Just be glad that a band that you like is still doing something that you can go see or not go see. So I would just say don't concentrate on those things. Concentrate on the joy that you originally got from the band, and whether you wanna go see them now or not see them now, that's cool."
"But you've just gotta give thanks, man. These guys [Stanley and Gene Simmons] gave their lives — decades and decades. They could have been on the beach; they could have been hanging around. But what were they doing? They were doing in-stores and they were doing meet-and-greets and they were doing soundchecks and they were doing gigs and travelling — all that stuff… They're, like, in their 70s now, so you've gotta give it up to those guys. And they have my ultimate respect," Friedman concluded.
The post "Who Cares?": Marty Friedman on bands that use backing tracks appeared first on Guitar.com | All Things Guitar.
Source: www.guitar-bass.net