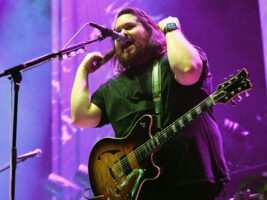 Wolfgang Van Halen re-sparks the backing track debate: "You should be able to play your s**t"
Wolfgang Van Halen has added more fuel to the fire on the topic of backing tracks, doubling down on his stance that they should be kept to a minimum in live performances.
Backing tracks are nothing new; many bands and artists employ them to make their mix sound fuller and more complete when playing live. Naturally, this is more prominent with bands with fewer members – with only one guitarist, for example – but it's not a rule. Power trios can use no backing tracks, and six- or seven-piece bands can employ them.
READ MORE: This guitar teacher just shocked judges with a face-melting solo on America's Got Talent
The debate reached fever pitch last year when metal outfit Falling In Reverse cancelled a planned appearance at Illinois's WIIL Rock Fest after some of their laptops went missing.
In a video explaining the decision to cancel the show, frontman Ronnie Radke said: "And as a band in 2022, you need your laptops. It's like driving a car without an engine."
Shortly after, broadcaster Eddie Trunk chimed in, making his opinion that bands should perform everything live abundantly clear. "How much longer are fans, promoters, media, just going to accept the epidemic of live rock shows… not really being live? " he said. "Paying your hard earned money to see a band play 'live' that's not truly live?"
The debate raged on, with even former Skid Row frontman Sebastian Bach getting in on the action on Trunk's side.
And Wolfgang Van Halen – who has been another proponent of playing music live and using limited to no backing tracks – has sparked the debate's flame once again.
In a new conversation with YouTuber and Solar Guitars head honcho Ola Englund, the multi-instrumentalist calls the widespread use of backing tracks in 2023 a "bummer".
"Look, I think everybody else draws their own line with what tracks are acceptable or not, but it's, like, if you're pumping in the main guitar riff and the lead vocals and actual fucking drums – like, pre-recorded drums – that's a problem," he explains. "You should be able to play your shit.
"I can understand [if] you don't have a keyboard player, so [you] need the pad. That's fine. You can't carry around a 60-piece orchestra, so you've got the strings. That's fine. But lead vocal, main guitar, main bass and the drums – you should be playing that. [Laughs]"
When asked by Englund about whether the increasing reliance on backing tracks has been a result of a more sophisticated and complex approach to production in the studio, Wolfgang replies: "I never do anything in the studio that I can't do live.
"Sure, there are tricks that you can do to do stuff that you wouldn't normally be able to do, but why would you wanna do that? 'Cause it's about creating music that you're capable of doing and that you can do live."
Watch the full conversation, in which the pair talk about Eddie Van Halen, Dave Grohl and loads more, below:
The post Wolfgang Van Halen re-sparks the backing track debate: "You should be able to play your s**t" appeared first on Guitar.com | All Things Guitar.
Source: www.guitar-bass.net