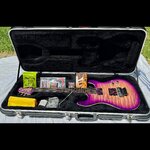 Incoming NGD – Morse Y2D – Purple Sunset
Hello old friends. It's good to be back on the forum. I couldn't get into my original Tollie account so this is my new one.
My cover band only plays 80s rock, mostly hair band songs, and I've been playing my Axis Super Sports with the tremolo set up to float the way Luke does it. They are fantastic but I wanted a floating Floyd Rose so I bought this Morse Y2D with a Floyd. It arrives tomorrow.
Source: http://forums.ernieball.com