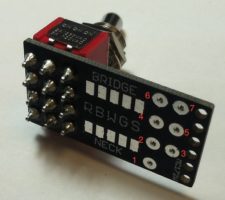 JP6 With PCB – Anyway to simply change middle position to both humbuckers on series?
I recently got my hands on a 2014 JP6 PDN Neptune Blue that's pretty nice. I have an electronics / pickup switching question that I was hoping someone could answer.
In the middle position the pickups are wired in serial. There is a significant drop in volume when playing clean guitars when I switch to the middle pickup, and I personally enjoy the sound of 2 humbuckers on and in series for the middle position.
This JP has a PCB on the toggle switch like this one:
Is there any way to simply alter the wiring so that the middle position is in series with both humbuckers on?
FYI – I contacted EBMM customer service and their reply was to purchase a push/pull pot and wire it like a BFR. Just wanted to see if any EBMM gurus had any simple solutions before modifying the electronics of this guitar.
Thanks.
Source: http://forums.ernieball.com