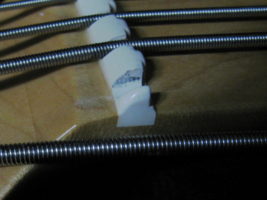 Time for a new Nut? 2007 Stingray 5 HS
I picked up this bass used some years back, it's the one pictured in my avatar. Lately I've noticed that the nut is quite low, especially on the bass strings, to the point that the strings are making contact with the end of the fretboard on the tuner sides of the nut:
Is it time for a new nut? If so, how do I go about getting one? I'd prefer to have the original EBMM compensated nut, as this bass really works.
Source: http://forums.ernieball.com