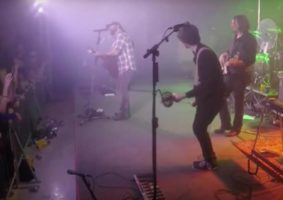 Five Ways to Make Your Band Better
Whether you play in a band or record music on your own, there's something useful in this video for you.
Jim Lill has been on the road with his band this summer, and he's had a chance to see plenty of groups perform.
"And I've been making a lot of notes about all the pitfalls that make a lot of those bands sound really bad," he says.
Jim has distilled those notes down to five tips that he shares in his latest video, "Five Ways to Instantly Make Your Band Better!" They include a range of topics, including tempo, EQ, guitar tone and arrangement. Jim even gives advice about specific frequencies to focus on for each instrument.
We regularly feature Jim's excellent videos here, and we have to say this is one of his most informative, especially with regard to EQ. By all means, check this one out.
And when you're finished, head over his YouTube channel for more of his great videos, many of which we've featured in here. Be sure to give his videos a "like" and leave a note of thanks.
In addition, take a look at his Guitar-Lick-A-Day Instagram, where you can learn a new lick every day, with tab available for each lick.
Finally, check out Jim's website, where you can find more lessons and MP3s and purchase his e-book, The Graphic Guide to Country Guitar. You can also join his mailing list to get immediate updates on videos.
Source: www.guitarworld.com