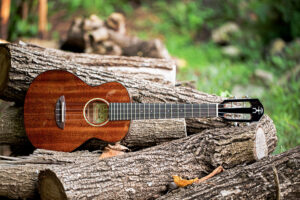 Hal Leonard Europe Announces aNueNue Distribution Agreement
Hal Leonard Europe have been appointed by aNueNue Music, a Taiwanese manufacturer of high-quality guitars and ukuleles, to distribute their products across all European territories. aNueNue instruments are already well known to the industry, with products from the Bird, Colour and Hawaiian Dream Series being especially popular. aNueNue currently has a huge following in the USA and Far Eastern markets which means this deal is an exciting step for both Hal Leonard Europe and aNueNue Music.
"At aNueNue, we are fortunate to have a lifelong passion in musical instruments. We are even more fortunate to work with Hal Leonard Europe to take care of dealers' distribution across Europe. This encourages us to spend more love and time to design and refine our products. We are confident Hal Leonard Europe will service dealers well and give us feedback in sound and quality. We will do our best to fulfil the needs and demand".
Johnson Liao, Founder of aNueNue Music
 "When we heard there was an opportunity to work with aNueNue we jumped at the chance. The high quality of these instruments needs to be experienced first-hand and we're delighted to partner with them across Europe. It is a pleasure to work with Johnson and his team to grow the reputation and sales of this prestigious brand and further supports Hal Leonard Europe's position as a leading pan-European Musical Instrument and Pro Audio distributor".
Graham Reader, Sales Manager, Musical Instruments & Pro Audio, Hal Leonard Europe
Please contact proaudio@halleonardeurope.com to secure stock from this initial shipment.
About aNueNue Music:
aNueNue (pronounced as AA-Nuw-eh-Nuw-eh) means rainbow in Hawaiian. Johnson Liao, founder of aNueNue Music, finds that the company and instrument itself, shares the same philosophy. "The ukulele is a happy musical instrument; it spreads love, peace and soul." It was from this philosophy that aNueNue Ukulele was born. aNueNue are not only trying to make the world's finest musical instruments but are also hoping to make the world a better place. www.anuenuemusic.com/en/
 About Hal Leonard Europe:
Hal Leonard Europe companies are part of the Hal Leonard group of companies – the world's largest source of music publications, representing many of the world's best-known and most respected publishers, artists, songwriters, arrangers and instrument manufacturers.
Hal Leonard Europe companies publish and distribute an extensive catalogue of printed and digital publications, sheet music, music education resources, instruments, gifts, accessories and pro audio in Europe and around the world.
There are Hal Leonard Europe offices and distribution centres located in Belgium, France, Germany, the Netherlands, Italy and the United Kingdom.
www.halleonardeurope.com

The post Hal Leonard Europe Announces aNueNue Distribution Agreement appeared first on Music Instrument News.
Source: musicinstrumentnews.co.uk