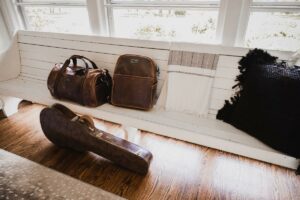 Lifton Leathers Revitalised With Gibson
Gibson is proud to unveil the latest in musical instrument gear and accessories, with the luxury fine-leather goods brand, Lifton. The relationship between Gibson and Lifton was forged in leather and wood over half a century ago. Now, these two iconic brands come together to share an unshakable ethos of quality and craft for generations to come. Explore the new line of Lifton, vintage-inspired, premium hardshell guitar cases, and fine-leather accessories, available worldwide on: www.gibson.com.
World-renowned for their legendary quality, unmatched materials, and superior artisanship, Lifton products are highly esteemed by musicians and live up to the company's original tagline – Built Like a Fortress. Since 1918, Lifton has been painstakingly crafting leather music instrument cases, travel accessories, and luxury leather goods that stand the test of time. Like so many classic American brands of the nineteenth and early twentieth century, Lifton rose from humble beginnings. First, as a manufacturer of fine leather instrument cases that became almost as coveted as the guitars they were made to protect, then as a maker of luxury leather goods that rivaled the finest wares of fashion houses in Europe. Lifton continues their tradition of excellence today for fine leather goods with this new line of vintage-inspired, premium hardshell guitar cases and leather products, including wallets, backpacks, and duffle bags. Lifton's craftsmanship, quality, and American originality are once again setting the standard for musical instrument cases, travel accessories, and fine leather goods.
"Launching the Lifton Collection marks another milestone for all of us at Gibson," says Cesar Gueikian, Gibson Brand President.  "As a collector of vintage Gibson guitars, the Lifton cases are built like a fortress and have been as important in protecting my collection as the guitars themselves. Inspired by the design, quality, and heritage of Lifton, our team has created the next evolution for the Lifton brand with fine leather accessories that all of us music lovers can use daily; and this is just the beginning!"
Explore the new Lifton Collection from Gibson: https://www.gibson.com/en-US/Collection/lifton.
About Gibson
Gibson, the leading iconic guitar brand, has shaped the sounds of generations of musicians and music lovers across genres for 128 years. Founded in 1894 and headquartered in Nashville, Gibson Brands has a legacy of world-class craftsmanship, legendary music partnerships, and progressive product evolution that is unrivaled among musical instrument companies. The Gibson Brandsportfolio includes Gibson, the leading guitar brand, as well as many of the most beloved and recognizable music brands, including Epiphone, which has been on every stage since 1873, Kramer, the original MADE TO ROCK HARD guitar brand, MESA/Boogie, the home of tone, and KRK, behind great music for over 30 years, and Maestro, the founder of effect pedals. Gibson Brands is dedicated to quality, innovation, and sound excellence so that music lovers for generations to come will continue to experience music shaped by Gibson Brands. Experience more at Gibson.com and on Instagram, Twitter, Facebook, Gibson App, Gibson Garage, and Gibson TV.

The post Lifton Leathers Revitalised With Gibson appeared first on Music Instrument News.
Source: musicinstrumentnews.co.uk