Review – Rathbone Guitars R3BCE Acoustic
Here's the latest review from the team at our sister-site Acoustic Review looking at a Rathbone Guitars R3BCE electro-acoustic, featuring…
Cutaway Body,
Laminated Bocote back & sides,
Double layer top: Bocote – Carbon Fibre – Bocote,
Mahogany neck,
Rosewood fingerboard,
25.5″ scale length,
42mm bone nut,
Gloss lacquer finish,
Built-in tuner,
Belcat 3-band EQ pre-amp.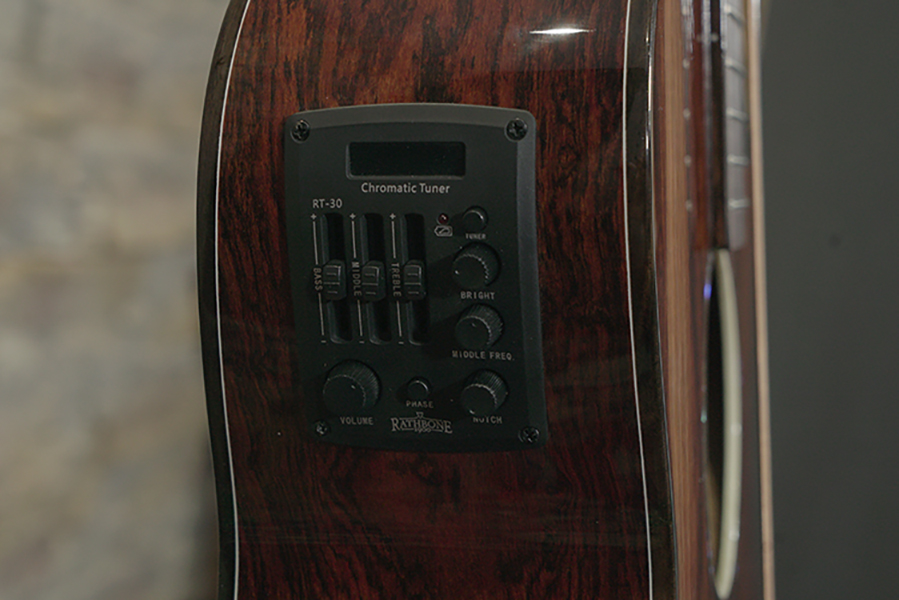 Rathbone says..."Traditional aesthetics meet 21st Century technology. The R3BCE Rathbone Grand-Auditorium 'Double Top' features a technologically advanced sound-table made of two super-thin layers of Bocote with a Carbon Fibre lattice in-between. This 'Double-Top' construction enables the sound-table to be a little thinner than a single solid piece of bocote but remain strong and ultra-responsive. The result is a super-resonant and voluminous guitar with bags of both character and all-out power. The highly figured all-Bocote tonewoods offer a mesmerising marbled grain while delivering a warm and articulate tone with superb projection.
The perfect all-rounder, the No.3 has the same scale length as the Orchestra Model but body dimensions closer to a classic dreadnought. The larger body cavity naturally produces greater bass tones, but without sacrificing clarity, and that's the beauty of the Grand-Auditorium. However, a larger body does not mean an unwieldy instrument. Far from it, in fact. The beautiful curves around the waist of the Rathbone No.3 ensure the guitar will sit comfortably on a knee or hang perfectly from your shoulders."
Ratbone R3BCE: UK RRP: £545.00
More Info: www.rathboneguitars.com
---
Follow Acoustic Review on social media for all the latest news and special features from the acoustic world…
https://www.facebook.com/AcousticReview
https://twitter.com/Acoustic_Review​​
https://www.instagram.com/acousticreview
---
Also, check out our other sister-sites featuring reviews, news and interviews from the world(s) of drums and bass guitar…

The post Review – Rathbone Guitars R3BCE Acoustic appeared first on Music Instrument News.
Source: musicinstrumentnews.co.uk