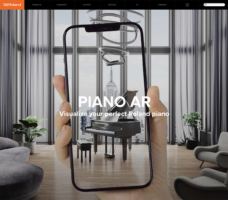 Roland Corporation Introduces Roland AR – Augmented Reality for Pianos
Today, Roland Corporation, a global leader in innovative electronic musical instruments and multimedia products, announces Roland AR, an innovative Augmented Reality (AR) experience that empowers customers to visualize and engage with pianos within the comfort of their own homes. This initiative will reshape the way consumers interact with and purchase Roland Pianos.
One of the most significant challenges consumers face when purchasing large musical instruments, such as pianos, is understanding how they will fit within a personal space and which color option suits their surroundings. Roland AR eliminates these uncertainties by allowing customers to virtually place instruments in their rooms. Leveraging the power of LIDAR technology found in modern mobile phones, users can scan their environments and seamlessly incorporate true-to-scale virtual objects, such as the new GP Series Grand Pianos and popular LX and FP Series, providing an immersive and accurate representation of the instrument's size, appearance, and fit.
Roland AR is a browser-based solution, eliminating the need for additional app installations. This user-friendly feature seamlessly integrates with the Roland website and authorized Roland Piano Dealer's product pages, allowing music lovers to experience 3D and AR directly from their favorite store. On a mobile device, customers can virtually walk around detailed, to-scale models with dynamic lighting and reflections, providing an unparalleled understanding of the instrument's presence in their space. With the ability to share AR experiences directly in social stories, consumers can also interact with instruments in a new fun and engaging way.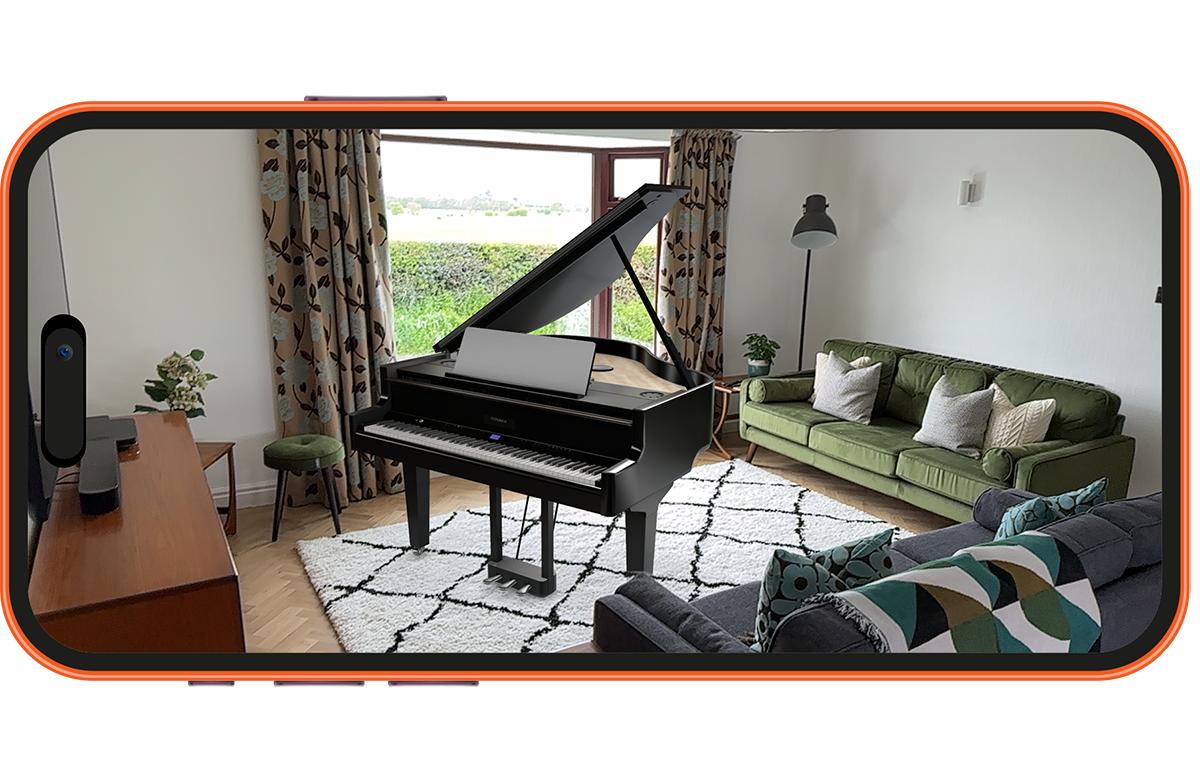 Roland Corporation's commitment to innovation and customer satisfaction is the driving force behind developing Roland AR. Global Channel Marketing Manager David Paul said, "A piano is a big investment and more than just an instrument – it is an important piece of furniture too. So, we wanted to ensure that our customers had the best tools available to make the right choice for their homes and spaces. Roland AR provides an unparalleled experience with beautiful graphics, dynamic lighting, reflections, accurate sizing, and ease-of-use. Just perfect for home consumers, interior designers, and commercial properties such as hotels, bars, and restaurants."
He continued, "Our commitment to the Roland Piano dealer network is demonstrated by ensuring that Roland Piano AR is available for all our retailers' website listings, and not just at roland.com. This means customers can benefit from Roland AR directly at their favorite retailer's website.
To learn more about Roland AR and to experience the future of musical instrument shopping, please visit https://www.roland.com/global/promos/piano_ar/.
About Roland Corporation
For more than 50 years, Roland's innovative electronic musical instruments and multimedia products have fueled inspiration in artists and creators around the world. Embraced by hobbyists and professionals alike, the company's trendsetting gear spans multiple categories, from pianos, synthesizers, guitar products, and electronic percussion to DJ controllers, audio/video solutions, livestreaming products, and more. As technology evolves, Roland continues to lead the way for gigging musicians, producers, and beatmakers, providing modern software-based solutions and seamless creative workflows between hardware products, computers, and mobile devices. For more information, visit Roland.com or see your local Roland dealer. Follow us on Facebook, Twitter (@RolandGlobal), and Instagram (@RolandGlobal).
The post Roland Corporation Introduces Roland AR – Augmented Reality for Pianos appeared first on Music Instrument News.
Source: musicinstrumentnews.co.uk