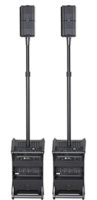 New HK Audio Lucas Nano rigs now shipping
HK Audio has introduced four new LUCAS NANO 600 series system sets. The four packages available are the LUCAS NANO 602 Stereo System, the LUCAS NANO 608i Stereo System, the LUCAS NANO 608i/602 Twin Stereo System, and the LUCAS NANO 602/602 Twin Stereo System. HK says they are: 'Designed to give users all the compact stereo PA power and accessories they need in a convenient, price-saving package'.
The two Stereo System packages allow users to build a 2.1 stereo rig in seconds, using their LUCAS NANO unit of choice and the König & Meyer Stereo Stand Add-On set. Made in Germany, the set includes two König & Meyer stands to connect the NANO satellites, and two speaker cables featuring Neutrik speakON connectors. In total, the 2.1 Stereo System weighs just 22.7 kg / 50 lbs., meaning users can carry their entire setup to the gig in just one hand and then treat audiences of up to 120 with incredible stereo sound.
The two Twin Stereo System packages – which deliver 920 Watts of stereo sound for crowds of up to 200 – feature two LUCAS NANO units plus a stereo link cable and two of HK Audio's S-Connect Pole LN signal-routing speaker poles.
HK claims the Twin Stereo Systems offer a huge stereo sound most crowds would only expect to hear from a much bigger, heavier PA, with plenty of thumping low-end, an abundance of headroom, and crystal-clear projection and speech intelligibility throughout the venue.
Rüdiger Forse, HK Audio's Senior Product Manager, said: "Life is stereo, so it's only natural that we offer our LUCAS NANO users the easiest, most affordable way to a full-on stereo PA setup too. These new stereo packages are a breeze to transport and setup, and their superior, room-filling sound quality – all thanks to our decades of German engineering experience – will get any party started!'
Info: www.hkaudio.com
The post New HK Audio Lucas Nano rigs now shipping appeared first on Music Instrument News.
Source: musicinstrumentnews.co.uk