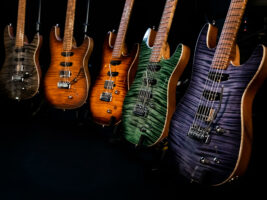 Chapman Guitars warns of delays to UK-made Workshop Series, hints at closure of UK Guitar Builders
Chapman Guitars has said that customers who ordered its new UK-made Workshop Series may face a significant delay, hinting at the imminent closure of the company who were meant to be manufacturing the guitars, UK Guitar Builders.
READ MORE: Chapman Guitars' first Workshop Series guitars are now available to buy on Reverb
Custom orders for Chapman's Workshop Series opened in December of last year. Customers could choose from a number of premium build specs, including flamed and birdseye maple necks and flamed and quilted tops. A custom order cost £3,499.99.
In an Instagram post made last Friday (3 February), Chapman Guitars wrote: "We've recently been made aware that it's looking unlikely that UK Guitar Builders (UKGB) will be able to fulfil any more orders for the companies it supplies, including Chapman's UK Workshop Series. Fortunately, we are already in dialogue with an alternative experienced high-end Guitar builder with a view to being able to resume production in the next 4-6 weeks.
View this post on Instagram
A post shared by Chapman Guitars (@chapmanguitars)
"All customers with orders placed for UK made Chapman guitars have been informed and offered the option to wait or cancel and have their deposits returned. At this time, we would just like to wish all the staff at UKGB the best for the future and reassure everyone that the Chapman workshop series production will resume as soon as possible."
While no statement from UKGB has been made, Chapman's wording strongly hints that the company is to close soon. Filings at the UK Companies House reveal that Leigh Dovey and Michael Dunn, director and COO of UKGB respectively, both left the company in January.
Alongside Chapman's workshop series, UKGB supplies a number of other brands with high-end, UK-made instruments, including PJD Guitars. Guitar.com has reached out to the company for comment.
The post Chapman Guitars warns of delays to UK-made Workshop Series, hints at closure of UK Guitar Builders appeared first on Guitar.com | All Things Guitar.
Source: www.guitar-bass.net