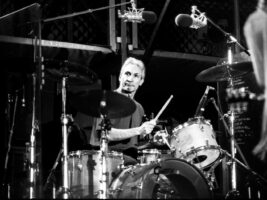 Charlie Watts, drummer and heartbeat of The Rolling Stones, dies at 80
Charlie Watts, the drummer of The Rolling Stones for over half a century, has died at the age of 80.
A statement from the band and Watts' spokesperson wrote that the legendary drummer passed away in London on Tuesday morning (24 August). No cause of death was given.
"It is with immense sadness that we announce the death of our beloved Charlie Watts," the statement wrote. "He passed away peacefully in a London hospital earlier today surrounded by his family."
"Charlie was a cherished husband, father and grandfather and also a member of the Rolling Stones, one of the greatest drummers of his generation.
"We kindly request that the privacy of his family, band members and close friends is respected at this difficult time."
pic.twitter.com/wi6333F6QF
— The Rolling Stones (@RollingStones) August 24, 2021
Watts' passing comes after it was announced that he would sit out the Stones' No Filter tour of the US this fall to recover from a successful medical procedure. His last onstage performance with the band took place in Miami on 30 August 2019.
Charles Robert Watts was born in London on 2 June 1941 and developed an interest in jazz at an early age. After attending the Harrow Art School, he began working in graphic design while drumming at local clubs.
Watts was a regular performer with Blues Incorporated, the group with which Brian Jones also played. It was through this musical connection that Watts was introduced to the fledgling Rolling Stones in mid-1962. He joined the band officially the following year.
Watts is recognised as one of rock's greatest drummers and musicians across generations have taken to social media to honour his legacy. See a selection of tributes below:
Paul on Charlie Watts pic.twitter.com/rn2elK6cFE
— Paul McCartney (@PaulMcCartney) August 24, 2021
#God bless Charlie Watts we're going to miss you man peace and love to the family Ringo pic.twitter.com/3tSFg7EMQG
— #RingoStarr (@ringostarrmusic) August 24, 2021
View this post on Instagram
A post shared by pete townshend (@yaggerdang)
RIP Charlie Watts, one of the greatest rock drummers ever and a real gentleman. Condolences to his family and the band. #charliewatts #RollingStones
— Bryan Adams (@bryanadams) August 24, 2021
RIP Charlie Watts.You kept the beat to the soundtrack of our lives.A sad day. pic.twitter.com/BaVFal7HMP
— Glen Matlock (@GlenMatlock) August 24, 2021
Rest In Power #CharlieWatts RIP. You are a smooth brother. Thanks for all the great music. pic.twitter.com/ePlXpiiqNc
— Nile Rodgers (@nilerodgers) August 24, 2021
I first saw The @RollingStones in 1966 in the Bay Area and have been a fan ever since. Charlie Watts was one of the great drummers and will be missed. Rest easy Charlie pic.twitter.com/FQKOXiSUpG
— John Fogerty (@John_Fogerty) August 24, 2021
We just lost another Great one, Mr. Charlie Watts! Prayer going out & up for his family & friends. Details here:https://t.co/44axXfEpgD (Thxs Charlie for ur Gifts to this world. R.I.P. Bootsy baby!!! @RollingStones @MickJagger @officialKeef
— Bootsy Collins (@Bootsy_Collins) August 24, 2021
 
The post Charlie Watts, drummer and heartbeat of The Rolling Stones, dies at 80 appeared first on Guitar.com | All Things Guitar.
Source: www.guitar-bass.net