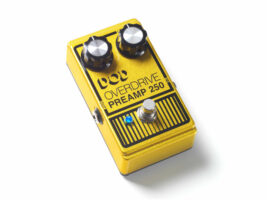 DOD officially returns with refreshed OD 250, and Tom Cram is back in the fold
While it's been known for a while that DOD and DigiTech were recently purchased by Cort Guitars' parent company Cor-Tek, today we have official confirmation from the brand of the purchase, along with two exciting announcements. First, Tom Cram is back in the fold, and second, DOD has returned with a revival of the Overdrive Preamp 250 – the first of nine classic pedals Cor-Tek plans to revive.
READ MORE: Cort purchases DigiTech and DOD with plans to invest in "new features and products"
Tom Cram was heavily involved in the development of many of DOD's 'renaissance' pedals: including the revived and tweaked Overdrive Preamp 250, the Rubberneck Analog Delay and the Carcosa Fuzz, and plenty more. So the pedal fans who were initially disappointed that he was seemingly distancing himself from DOD and Digitech's purchase and revival by Cor-Tek should be pleased to see him back on board, alongside several other key DigiTech and DOD figures.
Cram said in a statement: "The team and I are thrilled to join forces with the creative minds at Cort Guitars. We already have a product roadmap in place that leverages our combined areas of expertise. The reintroduction of the DOD Overdrive Preamp 250 is just the beginning, and I couldn't be more excited."
Cor-Tek President Jun Park added: "DigiTech/DOD guitar effect pedals have held a revered place in the guitar industry since 1974, and we have great respect for the heritage and legacy of these products. We are excited to continue offering iconic gear, like the DOD Overdrive Preamp 250, and investing in new products that meet the evolving needs of musicians."
The latest iteration of the Overdrive Preamp 250 will arrive at NAMM 2023 (13-15 April), with an MSRP of $153. The circuit is a distortion based around the LM741 op-amp chip, similar in some ways to the MXR Distortion plus. It's seen countless iterations over the years, the most recent being Tom Cram's modified version made in the 2010s.
Find out more at digitech.com.
The post DOD officially returns with refreshed OD 250, and Tom Cram is back in the fold appeared first on Guitar.com | All Things Guitar.
Source: www.guitar-bass.net