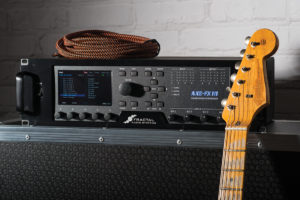 Fractal Audio systems Axe-Fx III
The high-end digital modelling phenomenon returns with a third iteration that promises significant upgrades both inside and out. Darran Charles plugs in…
The Fractal's rackmount form factor returns, making it suitable for both the road and the studio
Fractal Audio Systems' Axe-Fx redrew the high-end digital modelling landscape when it arrived on the scene a decade ago, quickly becoming a fixture in the touring and recording rigs of some of the biggest and most influential guitar players in the world, thanks in no small part to its mix of top notch tone and rock-solid build quality.
Fractal's success sparked a high-end modelling arms race that has since seen the likes of Kemper, Positive Grid and Line 6 bringing their own variations on the theme to market, but the Axe-Fx remains the benchmark for many guitarists out there – particularly those at the heavier end of the spectrum. As a result, it was a shock when, at this year's Winter NAMM show, Fractal unexpectedly launched the Axe-Fx III, which supersedes version II, released back in 2011 and last upgraded in XL+ form in 2015.
So what's new with the Axe-Fx III? Firstly it boasts nearly three times the processing power of version II, and with two 1GHz digital signal processors and dedicated graphics and USB processors onboard, the Axe-Fx III can rightly claim to be the most powerful unit of its kind on the market.
The interface has also undergone some major changes, and perhaps the most striking is the front panel display. While relatively simple to use, the antiquated green and black screen of old was a bugbear for some Axe-Fx users, and its low-resolution never really reflected the cutting edge technology under the hood. The new high-contrast display, however, is 30 times the resolution of its predecessor and the detailed animation of modifiers and meters will be much welcomed by users new and old.
The Axe-Fx's robust and durable rackmount chassis has been retained, and the manufacturing quality is strikingly apparent – this is not just a piece of studio equipment, it has been designed to withstand the rigours of touring. This road-ruggedness is something that sets Fractal apart from the crowd.
The Axe-Fx III offers an increased number of LED meters so you can keep track of the levels of all four input and output sockets
Hands On
There are hundreds of virtual amps on board, accessed via 400 presets – each one consisting of an entire virtual rig. Everything you could reasonably wish for is here: vintage Marshalls, Fenders, Mesas, Diezels – even near-mythical Dumbles. And with over 2,000 virtual cabs at your disposal, the tonal permutations are mind-boggling.
Presets can be selected by turning the large 'value' knob, or at a more leisurely pace by using the left and right arrow keys. A new feature on the Axe-Fx III allows you to select different 'scenes' of a particular preset by using the up and down navigation keys. But more on those scenes later…
Editing is similar to the Axe-Fx II in principle, but a redesign of the front panel means you now have five knobs, labelled A to E, positioned at the bottom of the display. These correspond to the interchangeable menus featured on the bottom of the screen and both press and rotate depending on which parameter/menu you are selecting or editing.
By clicking the 'layout' button you can view how each preset is constructed. This function brings up the grid (a matrix of rows and columns bookended by the 'input' and 'output') and it's here that you construct your virtual rig. A new 'zoom' function enables you to view the entire grid on just one screen (previously it was only partially visible and navigated by scrolling left and right).
Present on the grid are 'blocks'. Blocks can represent amps, cabs and effects, and are linked together in the same manner as a physical amp and effects chain. For example, if you simply want an amp, cab and wah pedal, then in this instance you would insert the wah block before the amp block, and then the amp into the cab block. Should you want to insert an effect into the mix that traditionally would be in the effects loop, you can insert this block between the amp and cab. It's pretty straightforward and intuitive, but with the block grid equipped with 14 rows of six slots, the sonic and switching possibilities are almost limitless.
The functionality for both scenes and channels has been developed significantly for the Axe-Fx III. Channels can be imagined as a separate preset for an individual block, and whereas previously you could only switch between two settings, now you are able to switch between four distinct settings in a single block. Using the reverb block as an example, you could perhaps set channel A for a spring reverb, channel B for a small hall, and so on. This used in conjunction with the scenes offers a wealth of footswitchable options.
Ah yes, the scenes. Scenes dictate what blocks and channels are engaged or bypassed. An example of how you might use them would be setting up different scenes for clean, rhythm, and lead. The clean scene could feature channel one of the amp block set as a Fender-type amp with the compression and reverb blocks engaged; the rhythm scene could be something like a Marshall-style model on channel B of the amp block, but now with the compression block disengaged and a drive block engaged; finally, the lead scene could feature some delay, and use the same Marshall, but with a more powerful drive on channel B of the drive block.
You could of course simply switch between presets instead, but using this method there will always be a slight delay (albeit an almost immeasurable one) because the Axe's brain has to carry out a number of processes, including clearing the buffers and muting audio. By opting to use scenes, you get an almost seamless transition between sounds.
The old green LCD display has been replaced with a full-colour display that's 30 times the resolution of its predecessor
In Use
Speaking of sounds, with the sheer volume of amps onboard it's hard not to feel slightly overwhelmed. For familiarity's sake, we begin by investigating some of our past and present favourites.
First up is the 'JVM OD2', which is an emulation of the OD2 channel on a Marshall JVM410 head. The three gain stages present on the actual amp are here and selected by scrolling through the scenes labelled 'green', 'orange' and 'red'. Pleasingly, all the sonic characteristics of a souped-up JCM800 are here, and in orange mode without a noise gate engaged, the gain-laden, hissing anticipation of a super-heavy rock tone about to be unleashed, sounds and feels unerringly familiar. The sheer weight and clarity of tone provided by a fraction of power amp sag and some rounded-off high EQs proves to be as joyful as the real thing.
Next up is a Mesa/Boogie Mark IV emulation. With the amp block set to 'USA Lead+' the definition is once again astonishing. Just by strumming through sus2 chords you can hear the distinctive, slightly scooped but harmonically rich sound associated with John Pettrucci. The punch and power is incredible: the characteristically biting but slightly-tamed treble and presence sets the stage for some technical lead playing. And just like the Mesa amp that it's an emulation of, it's unforgiving, with any shortfall in technique highlighted mercilessly!
A Fender Strat equipped with Texas Specials through the 'Double Verb' preset (based on the venerable Twin Reverb) provides sumptuously punchy cleans on the neck pickup but when switching to a bridge humbucker engages a sweet break-up that provides a perfect platform for slightly overdriven blues licks. Vintage amp aficionados may notice some differences between their own treasured amps and Fractal's models, but as you get used to using the Axe-Fx, the need to compare with the real thing evaporates – especially as you begin looking for your own sounds. If you're really determined to emulate the sound of your favourite players, however, Fractal's Axe Change website features a wealth of community-sourced presets that you can download to your unit.
The onboard effects are simply sensational and of the highest studio quality. The stable of sounds on offer has also expanded – there are now more reverbs, drives, delays and modulation effects to choose from, as well as many new effect blocks.
The Axe-Fx III offers more inputs and outputs than ever before
There's much greater competition in the high end amp modeller market since Fractal Audio first arrived on the scene 10 years ago, but the Axe-Fx III cements its place as the market leader simply because of the sheer flexibility on offer. This is a serious – and mobile – piece of studio or live equipment capable of providing the tones for any musical project.
The vast range of tweakable parameters that Fractal offers sometimes comes in for criticism when compared to the simplicity of other units, and perhaps there is an element of justification there. However, these functions are there if you need them: most of us would be happy using the traditional EQ sculpting controls and not much else, because the presets offer such well-voiced starting points for your tone.
The Axe-Fx III also represents an entire live rig. More and more guitarists today are running a modeller straight into the desk and this method takes a lot of uncertainty out of live shows because, quite simply, the sound you programmed at home or at rehearsal will be identical to the tone coming through the PA (as this reviewer can attest).
While an upgrade from the Axe-Fx II might not seem immediately necessary, the inclusion of over 2,000 new cabs is a difficult prospect to resist. Add to that the improved effects blocks, the unrivalled processing power, and the rate at which Fractal develops and distributes new firmware, it's almost certain that within six months, the Axe-Fx III will leave its predecessor – and many of its competitors – trailing in its wake.
KEY FEATURESFractal Audio Systems Axe-Fx III
• PRICE €2,899
• CONTROLS 800×480 colour display; 5 endless rotary push-encoders; home, edit, store, tempo, enter, page left, page right; 4 arrow buttons; 8 LED meters; 3 status LEDs; value rotary; 4 output level knobs
• INPUTS/OUTPUTS Front panel: 1/4" input jack; 1/4" stereo headphone jack. Rear panel: 1/4" jack (unbalanced) instrument input; 2 XLR/1/4" combo jacks (balanced) inputs; 2 pairs L&R 1/4" jacks (balanced) inputs; output 1: L+R (stereo) XLR-Male (balanced), and L&R 1/4" jacks (Humbuster) outputs; Output 2: L+R (Stereo) XLR-Male (balanced); Output 3: L+R (Stereo) 1/4" jacks (Humbuster); Output 4: L+R (Stereo) 1/4" Jacks (Humbuster); S/PDIF input & output; AES/EBU input and output; 2 No. Expression pedal inputs 1/4" jack; FASLINK II Connector; USB; AC Power; MIDI in, out, thru; Ground lift
• DIMENSIONS 482.6 x 131.1 x 292.9mm
• WEIGHT 15.24lbs/6.87kg
• CONTACT G66 +49 461 182 8066, www.g66.euThe post Fractal Audio systems Axe-Fx III appeared first on The Guitar Magazine.
Source: www.guitar-bass.net