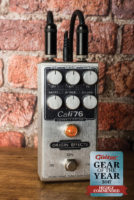 Gear Of The Year 2017: Best Effects Pedal
We're living in a golden age of effects pedals, and that's a fact borne out by some of the fantastic stompboxes that we've looked at in 2017…
Winner
Keeley D&M Drive
• Price £229
• Reviewed September 2017
• Contact Andertons 01483 456777 www.robertkeeley.com
A meeting of minds between the boutique effects godfather Robert Keeley and the stars of That Pedal Show, the D&M Drive promises to offer guitar players the full gamut of drive tones – from clean boost to searing rock leads.
The D&M Drive has two distinct and well-crafted tones modelled to the tastes of That Pedal Show hosts, Mick Taylor and Dan Steinhardt, which can be stacked and blended to taste, creating a hugely versatile gain pedal for all occasions.
We said "A super-versatile gain pedal full of top-quality tones that could conceivably replace two or even three others on your board – if it ran on battery power, it would be perfect!"
Highly Commended
Origin Effects Cali76 Compact Deluxe
• Price £269
• Reviewed September 2017
• Contact Origin Effects 01376 553016 www.origineffects.com
We said "An all-round compressor with pristine tone and a full range of compression and limiting effects for guitarists and bassists"Neunaber Immerse Reverberator
• Price £219
• Reviewed August 2017
• Contact Audio Distribution Group +45 6574 8228 neunaber.net
We said "Just gorgeous – this has to be the ultimate compact reverb pedal"Stone Deaf Tremotron
• Price £208
• Reviewed May 2017
• Contact Stone Deaf Effects & Amplification 01706 882486 www.stonedeaffx.com
We said "An absolute beast of a pedal that's not easy to keep on the leash, but sounds like nothing else out there"The post Gear Of The Year 2017: Best Effects Pedal appeared first on The Guitar Magazine.
Source: www.guitar-bass.net