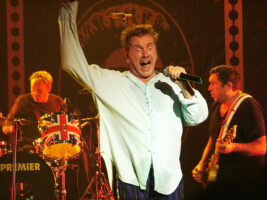 John Lydon sued by Sex Pistols over the band's music appearing in Danny Boyle-directed biopic series
Ex-Sex Pistols members Steve Jones and Paul Cook are suing John Lydon (AKA Johnny Rotton) in order to get the band's music to appear in Pistol, an upcoming television biopic about the punk band based on Steve Jones' memoirs.
READ MORE: Robert Fripp and Toyah share cover of Pretty Vacant by the Sex Pistols
Lydon is refusing to grant permission for the use of the songs, having described the series as "disrespectful."
A lawyer for Jones and Cook told a judge at the High Court in London on Thursday that the former bandmates have a "brittle and fractious" relationship. He cites, however, the terms of a band agreement made in 1998. This sets out how decisions regarding licensing requests could be determined on a "majority rules basis." Lydon is contending that licenses to use the music can't be granted without his explicit consent.
Lydon's lawyer Mark Cunningham said in written court arguments that Jones's memoir depicted the band's singer "in a hostile and unflattering light," at one point describing him as "the annoying little brat with the great bone structure who's always asking for more."
Pistol is due to be broadcast next year and is directed by Danny Boyle. Boyle is known for many of his acclaimed films, from Trainspotting to 28 Days Later to Sunshine – he was even artistic director for the opening ceremony of the London 2012 Olympics.
It's unknown what the series will look like if permission can't be granted for the use of the band's songs, however, it wouldn't be the first time a biopic has forgone the use of its subject's music. For example, Jimi: All Is by My Side, didn't use any songs by Hendrix, as permission was denied by his estate.
More recently, Stardust, a biopic regarding David Bowie, was not sanctioned by Bowie's estate and hence did not have access to his catalogue. For this reason and many others, the film was panned by critics upon release: its Rotten Tomatoes score sits at 21 per cent. One critic wrote: "An unauthorized David Bowie biopic without the music begs the question, what's the point?"
The post John Lydon sued by Sex Pistols over the band's music appearing in Danny Boyle-directed biopic series appeared first on Guitar.com | All Things Guitar.
Source: www.guitar-bass.net