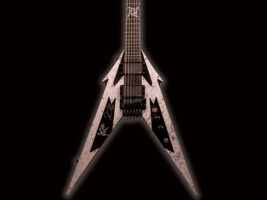 Metallica are giving fans the chance to win a one-of-a-kind Flying M guitar
In a bid to raise money for good causes, Metallica have unveiled a one-of-a-kind 'Flying M' electric guitar, which will be given away in a new charity raffle.
READ MORE: Dave Mustaine discusses how Diamond Head were early influence on Metallica
Unveiled last week, the custom model is constructed by Highline Guitars and Inventables, and offers a new take on James Hetfield's trademark Flying V.
The body is comprised of ebony, mahogany and sheets of aluminium, and the band's signature "M" comes embedded on the wing of each side of the guitar.
Even more unusual, unlike the original Flying V model that inspired the design, the Flying M is fitted with Kirk Hammett's own EMG humbuckers and a Floyd Rose-inspired tremolo system.
The band's signature sawblade logo is also seen in the form of an inlay on the twelfth fret and a custom Hardcase also comes included. In addition, fans will be pleased to hear that all members of the band have also hand-signed the axe.
The unique guitar was designed in collaboration with Metallica to raise money for their All Within My Hands foundation. Funds raised by this non-profit organisation will be donated to the Metallica Scholars initiative; a programme that supports community colleges.
Entries to enter the raffle are free, however, donations ranging between $10 and $500 are encouraged – with the full amount going to charity.
Currently active, the raffle will finish on 15 March, with the winner of the Flying M announced on the same day. According to Fandiem, which is hosting the raffle, the guitar in question has an estimated retail value of $10,000. That being said, the members' signatures are likely to have bumped that value up even further.
Find raffle tickets and more information about the Flying M guitar on Fandiem's website.
The post Metallica are giving fans the chance to win a one-of-a-kind Flying M guitar appeared first on Guitar.com | All Things Guitar.
Source: www.guitar-bass.net