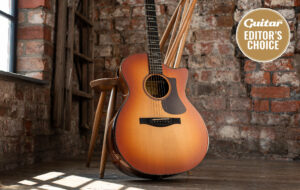 The Big Review: Eastman's AC722CE looks familiar but has a sound of its own
Does the world need another grand auditorium-sized cutaway electro-acoustic? Eastman certainly thinks so and, while its new AC722CE model may look pretty familiar from the nut downwards, it offers some interesting features that differ from the norm.
READ MORE: The best versatile electric guitars to buy this year
Firstly we have a European spruce soundboard with hand-carved scalloped X bracing, which promises an immediate response with a smoother transient than might be expected from Sitka or Adirondack. The back and sides are rosewood – the genus is not specified but it is a beautiful straight-grained set, presumably Indian, which looks excellent under the instrument's gloss finish.
Face forward: the peghead is adorned with tasteful abalone
Eastman recently moved away from nitrocellulose to a more environmentally friendly finish the company calls Truetone, which features a modified two-part urethane top coat that Eastman says strikes a balance between hardness and flexibility without compromising resonance and tone. If you are in any doubt as to its pedigree, it's the same finish you'll find on Bourgeois acoustics.
The soundboard's lustrous Dakota Fade sunburst is very well applied and, although it's a personal preference, it's nice to see a gloss finish on the back of the mahogany neck. This is a fairly substantial neck shape which Eastman describes as Traditional Even C, and it fills the hand beautifully while feeling fast and engaging from the heel to the volute.
Go-team: the Gotoh tuners make altered tunings a doddle
While the neck carve may be traditional, the Kevin Ryan-style ebony arm bevel and elliptical 1.5-inch shoulder soundport most certainly are not, and both combine to bring this guitar firmly into the 21st century. While arm bevels are becoming increasingly prevalent on guitars of this size and even smaller, the jury is still out when it comes to soundports on electro-acoustic models, with some luthiers evidencing a greater susceptibility to feedback at volume when plugged in. There's only one way to find out!
Port of call: the soundport has a palpable impact on playing
In use
Our first explorations of the AC722CE in standard tuning reveal a bright, lively voice with an almost hi-fi quality. There's plenty of sustain on tap and the trebles are smooth and nuanced, impressively so for a brand-new instrument. The bass response – thanks no doubt to the soundport, which surrounds the player with a haze of sound – is full and musical, despite the inevitable loss of active soundboard surface area that often comes with the implementation of a forearm bevel design.
The impact any soundport has on the playing experience obviously depends on the proximity of the player's ears to the port itself. When playing seated with a footstool the results are palpable – we suspect that it would not be the case when standing but sadly there's no neck-mounted strap button for us to test this theory.
Ring true: an abalone rosette with magenta purfling matches the tortoiseshell guard
Slipping into DADGAD (a painless process thanks to the well-cut nut and Gotoh SG301 machineheads) shows tremendous potential for solo fingerstyle playing, with the guitar's crisp immediacy making for an articulate, detailed bass that is matched with liquid, expressive trebles. There's a wide sonic spectrum to explore and the guitar responds very musically to changes in right hand position and attack. When amplified, the LR Baggs pickup system does a great job of translating all this, and you can dial up the volume to small gig levels without it taking off in a squall of feedback.
Although there are unmistakeable echoes of Taylor in the Eastman AC722CE's styling, the playing experience and voice are surprisingly different – but still very good indeed.
1 of 9
For your convenience: the AC722CE's ebony forearm bevel ensures supreme comfort
Shell suits you: abalone dots jazz up the ebony bridge pins
Spruce almighty: The AC722CE's soundboard is European spruce
Wind power: the ebony 'board boasts 'hurricane' inlays
Key Features
PRICE £1,859 (inc hard case)
DESCRIPTION 6-string grand auditorium electro-acoustic guitar, made in China
BUILD Solid rosewood back and sides, solid European spruce soundboard with hand-carved scalloped X-bracing, mahogany neck, ebony fingerboard, bridge and bridge pins, bone nut and saddle, Venetian cutaway, ebony forearm bevel, 1.5" sound port, hurricane pearl/abalone inlays, tortoiseshell-style pickguard, dual-action truss rod
HARDWARE Gotoh SG301 machineheads
ELECTRONICS LR Baggs Element EAS-VTC
SCALE LENGTH 25.4" / 645.16mm
NECK WIDTH 44.45mm at nut, 53.7mm at 12th fret
NECK DEPTH 22.4mm at first fret, 22.6mm at 9th fret
STRING SPACING 38mm at nut, 56mm at bridge
WEIGHT 2.25kg/4.9lb
LEFT-HANDERS No
FINISH Dakota Fade Truetone gloss
CONTACT eastmanguitars.com
Like this? Try these
Furch Blue GC CM £1,050
Martin SC-13E £1,599
Taylor Builder's Edition 324ce £3,239
The post The Big Review: Eastman's AC722CE looks familiar but has a sound of its own appeared first on Guitar.com | All Things Guitar.
Source: www.guitar-bass.net