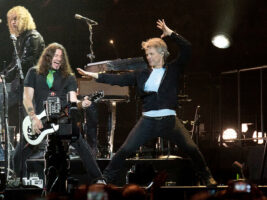 'Tis – almost – the season, and Bon Jovi are releasing a Christmas song
The rock bands you most associate with Christmas are probably the likes of Slade, Wizzard, and The Pogues – maybe The Pretenders or Mud too – but Bon Jovi probably aren't at the forefront of your mind.
That could all change this year, though, as the New Jersey rock icons have announced a Christmas song, set for global release tomorrow (17 November). You can pre-save the song on Spotify or Apple Music.
READ MORE: Black Friday Deals 2023: top savings on guitars, effects and amps
Bon Jovi recorded Christmas Isn't Christmas at a church in Nashville, Tennessee, and it's their first new material since they released the album 2020 in 2020.
"We've got an early Christmas present for you! Our new original holiday song, Christmas Isn't Christmas is out this Friday," the band announce.
Meanwhile, they also shared two brand-new photos from their recent recording sessions. In one, they're standing in front of Santa's Pub in Nashville with the owner of the pub, Denzel "Santa" Irwin, and in the other, they're in the middle of recording the track in the church.
View this post on Instagram
A post shared by Bon Jovi (@bonjovi)
The new song announcement comes days after former Bon Jovi guitarist Richie Sambora discussed the possibility of a reunion with his old bandmates.
He said, "I think that we wrote a lot of songs that changed a lot of people's lives just by letting them have a good time. I know that's what music did to me… kept me company. And I hope that I can reflect that in what I do.
"So yeah, [a reunion] definitely could happen. It's just a question of when everybody's ready to go do it. It will be a big, massive kind of undertaking."
This year marks the 40th anniversary of Bon Jovi's formation, with the 40th anniversary of their debut album coming in January 2024, so it could be the right time for one of the original members to make a return.
Meanwhile, this isn't the first time they've performed a Christmas song. In December 2020, they premiered their cover of The Pogues and Kirsty MacColl's seminal holiday classic Fairytale of New York, which you can listen to below:
The post 'Tis – almost – the season, and Bon Jovi are releasing a Christmas song appeared first on Guitar.com | All Things Guitar.
Source: www.guitar-bass.net