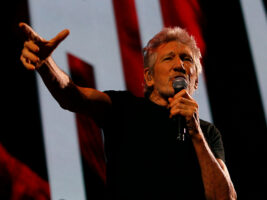 US State Department denounces Roger Waters' use of Nazi imagery at Berlin show
The US State Department has denounced Roger Waters' use of Nazi imagery at his recent Berlin show as "deeply offensive to Jewish people".
READ MORE: Noel Gallagher hits back at Liam: "He should concentrate on what's left of his f***ing hairdo"
"The concert in question, which took place in Berlin, contained imagery that is deeply offensive to Jewish people and minimised the Holocaust," the department stated in response to a question posed at Monday's State Department press briefing about whether the administration agreed with criticism of Waters from the US special envoy to combat antisemitism, Deborah Lipstadt (via AP).
"The artist in question has a long track record of using antisemitic tropes to denigrate Jewish people… Special Envoy Lipstadt's quote-tweet speaks for itself," the department said.
I wholeheartedly concur with @EUAntisemitism's condemnation of Roger Waters and his despicable Holocaust distortion. https://t.co/9gfdH94TZl
— Ambassador Deborah Lipstadt (@StateSEAS) May 25, 2023
Last month, the Pink Floyd co-founder came under fire after wearing what appeared to be an SS-style uniform, complete with a leather coat, gloves and a red armband, onstage.
Fan-recorded footage shows Waters firing an imitation MP 40 submachine gun – developed and used by the Nazis in World War II – while his stage performances also featured helmets resembling those of Nazi soldiers.
The controversial show quickly caught the attention of the German police, who later launched an investigation into Waters on "suspicion of incitement" for the costume he wore.
"The context of the clothing worn is deemed capable of approving, glorifying or justifying the violent and arbitrary rule of the Nazi regime in a manner that violates the dignity of the victims and thereby disrupts public peace," Berlin police chief Martin Halweg said. "After the conclusion of the investigation, the case will be forwarded to the Berlin Public Prosecutor's Office for legal assessment."
Meanwhile, Waters has claimed that those elements of his performance were "a statement in opposition to fascism, injustice, and bigotry in all its forms", calling criticism of it "disingenuous and politically motivated".
pic.twitter.com/RdxCXZY0Gn
— Roger Waters (@rogerwaters) May 26, 2023
The post US State Department denounces Roger Waters' use of Nazi imagery at Berlin show appeared first on Guitar.com | All Things Guitar.
Source: www.guitar-bass.net