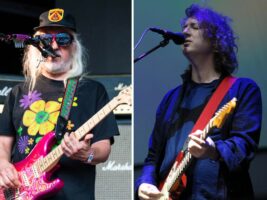 Watch Dinosaur Jr. bring out My Bloody Valentine's Kevin Shields at London residency
Dinosaur Jr surprised the crowd at a show in London by bringing out My Bloody Valentine's Kevin Shields for a selection of songs last night (November 16).
The band are currently in the middle of a residency at the Garage in north London and performed their own hit Tarpit as well as a rendition of My Bloody Valentine's Thorn (which they previously teamed up for live in 2015) and a cover of The Cure's Just Like Heaven. 
READ MORE: Black Friday Deals 2023: top savings on guitars, effects and amps
The bands have a particularly long-standing relationship, dating as far back as 1992 when they embarked on a joint tour across the United States and have continued to cross paths since then. One notable collaboration came in 2019, when Shields guested at Dinosaur's Rock Camp, and earlier this year, J Mascis appeared in a promo for Shields' new signature guitar pedal.
Check out their performances below:
Dinosaur Jr have been on tour to commemorate the 30th anniversary of their seminal fifth album Where You Been, which saw them play four shows at the Garage.
Earlier this week, they brought out actor and director Richard Ayoade, who played guitar on The Lung. Ayoade has professed his love for their music on various occasions, even describing them as his favourite band.
In September, Mascis revealed his less-than-impressed feelings towards Stevie Ray Vaughan's attempt at covering Jimi Hendrix's music and said he thought that he'd "never heard a single person play Hendrix correctly".
"Hendrix probably seems obvious, but he's the best guitarist ever, you know? No-one is ever gonna get close to him," Mascis says in an interview where he discusses the players who had the greatest influence on his guitar work. "So, he's on the list for that reason alone. He's an influence for all the obvious reasons, but I've never even tried to figure out a Hendrix song, meaning I've never tried to play like him. I'll never even try to play like him."
The post Watch Dinosaur Jr. bring out My Bloody Valentine's Kevin Shields at London residency appeared first on Guitar.com | All Things Guitar.
Source: www.guitar-bass.net