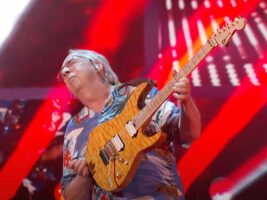 Watch: TikToker Old Grey Guitarist returns to America's Got Talent for qualifier round
John Wines, also known by his social media handle of Old Grey Guitarist, returned to the America's Got Talent stage earlier this week to perform in the Qualifiers round of the show.
The guitar tutor and viral TikToker performed a rendition of the USA national anthem, The Star-Spangled Banner, before rocking full-pelt into Dick Dale's Misirlou.
READ MORE: Guitar teacher John Wines on his face-melting America's Got Talent audition: "Whatever happens now, I've achieved what I wanted to achieve"
Based in the UK, the 59-year-old tutors children and teenagers from age five all the way up to age 18, and auditioned for the show following his popularity online. His audition was aired last June, which showed the rocker receiving a standing ovation from the audience as he wowed judges with Queen's We Will Rock You.
Returning again to the AGT stage, Wines of course performed with his trusted Charvel Pro-Mod DK24, where he showcased plenty of Halen-esque finger tapping and loaded up on plenty of whammy bar.
At the end of his set – which also saw him perform surrounded by women with varying black guitars for some reason – judge Howie Mandel referred to Wines as "Old Man Halen" and remarked that he "loved" his performance.
However, there was one judge amongst them who sadly gave Wines the red buzzer of disapproval mid-set. That judge being Simon Cowell, of course. The ever-critical Cowell said that to him, "it just felt strange" amid boos from the audience.
Heidi Klum, however regarded the performance as "inshredible". Wines left the stage after giving a message to his fans back home, telling them to "practice" and that "anything is possible".
Give it a watch below:
Sadly, despite his electrifying performance, Wines didn't receive enough votes and has been eliminated from the ongoing competition.
@oldgreyguitarist
A thank you ti all the people we met snd all who supported me#agt #agtauditions #guitaristsoftiktok #simoncowell #sofiavergara #howiemandel #heidiklum #terrycrews
♬ original sound – Old grey guitarist
Check out the Old Grey Guitarist TikTok page for more guitar solos from Wines.
The post Watch: TikToker Old Grey Guitarist returns to America's Got Talent for qualifier round appeared first on Guitar.com | All Things Guitar.
Source: www.guitar-bass.net