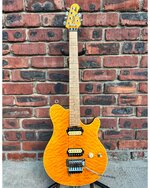 NGD: SBMM AX40 Transparent Amber – Van Halen vibes!
Came across this gem on eBay and decided to grab it. Recently picked up a beautiful new EVH Wolfgang, and I had a Peavey Wolfgang years ago, but as a kid always looked wide eyed at the EBMM EVH.
Not in the market to spend what they are currently going for so I jumped on this one. Very happy! Asymmetrical neck feels great, and I'm still thinking of giving it a slight sanding and oiling it.
Also added the D-tuna BUT after finishing it, I noticed the downward angle of the "whale…
Read more
Source: http://forums.ernieball.com