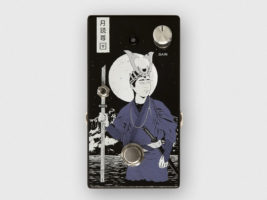 Ground Control Audio launches the Tsukuyomi Midrange Booster
A useful tool that boosts mid-range frequencies.
Ground Control Audio has unveiled its latest offering: the Tsukuyomi Midrange Booster. The fifth pedal in the brand's collection, this compact toolkit boasts elements from the popular Amaterasu Bright Pre-amp unit and uniquely shapes tone via targeted frequency boosts.
If its samurai-themed chassis is any indication, this pedal will help your guitar cut through the mix. It incorporates two aspects of the Amaterasu: a JFET frontend and a 20dB gain amplifier stage.
With the "Mids" switch to the right position, the pedal functions as a volume boost. Flick the switch over to the left, however, and the 880Hz to 1kHz frequency band gets a 12dB boost. This gives your lead tones the right amount of push to stand out in the mix. The mix is governed by the "Gain" knob.
The Tsukuyomi is voiced distinctly on different pickups. Ground Control Audio recommends a single-coil and trebly amp setup for some "velvety fullness", or, if you're partial to humbuckers, a "crunchy sweetness".
Retails at $159. More information at groundcontrolaudio.com.The post Ground Control Audio launches the Tsukuyomi Midrange Booster appeared first on The Guitar Magazine.
Source: www.guitar-bass.net