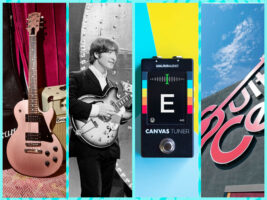 The Week In Guitar: slim-bottomed Gibsons, AI Beatles and pictorial tuners
Welcome once again to The Week In Guitar – your whistle-stop tour of the biggest news stories, product launches and oddness from the wonderful world of guitar for the last seven days.
This week, we have some lightweight Les Pauls, some new Beatles music and how you make the internet get excited about a new tuner…
Lite & Lean
Probably this week's most intriguing guitar launch game from Gibson, in the shape of the new version of the Les Paul Modern Lite – a radical take on the the classic single-cut format with reduced weight, slimmed-down body depth and more player-centric concessions such as a belly contour and a more sculpted heel to improve upper fret access. It also comes exclusively in what Gibson's Jim DeCola describes as nitrocellulose "fun colours" – including Rose Gold and Gold Mist – with matching headstocks to boot.
The Lite follows on from the Custom Colour series that was revealed back in August and, taken together, it's hard not to feel like Gibson is (finally) trying to make a play for a younger and more diverse audience. In fact, in Gibson's video above you'll even hear DeCola and Dinesh Lekhraj refer to younger players and players with "smaller frames" as being the target for these guitars.
It's a welcome play from a brand that has seemed more interested in appealing to what you could generously call its 'core audience' since it was saved from bankruptcy by private equity firm Kohlberg Kravis Roberts in 2018. Getting back to what their 'fans' wanted was a sensible move in the short term but hardly one that was shoring up the future of Gibson in 10 or 20 years time.
If Gibson wants to still be relevant in guitar circles in the years and decades to come, it could do with converting some of the seemingly endless parade of hot young artists playing Fender guitars right now to the Gibson cause – maybe the Les Paul Modern Lite will be the guitar to do that.
If it isn't though, might I proffer a suggestion? The non-reverse Firebird. It's the closest thing to a Fender offset in Gibson's arsenal – just make a stripped-down version of that in some "fun colours" for under $1,500 and see how many of Fender's stalwarts you pick up then…
AI Feel Fine
The biggest bit of guitar-centric music news this week was, of course, the much hyped return of the actual honest to bloody goodness Beatles. You don't need me to tell you that Now & Then, the final Beatles song and the final piece of original music we're ever likely to get where all of the Fab Four contributed to its creation.
You've no doubt heard it by now – pretty much every pop music radio station on earth played it at the same time yesterday, and you'll have your own opinions on whether it's a worthy part of the Beatles canon, so I shant bore you with mine. What I would do, however, is draw your attention to the short film that accompanied Now & Then's release that goes deeper into the making of this record.
There's something undeniably poignant about how the track itself reaches out across time to pull the greatest and most important band whoever lived back together after fate had cruelly torn them apart, and that poignancy is given real human weight by both McCartney and Starr in the accompanying film.
There's another world in which the Beatles might have had a second life, as so many of their peers did in the decades that followed – instead we have an undeniably emotive coda that we never expected. It doesn't really matter if it's good or not, it's just nice to have it at all.
Tuner? Nice, was…
Credit: Walrus Audio
Can a tuner ever be cool? Functional, of course. Useful, undeniably… but cool? Well, whether it can or can't, it won't be for want of trying from Walrus Audio, who released the new Canvas Tuner this week and managed to generate more hype for a tuner pedal than… well… ever? Maybe the PolyTune back in the day but Instagram didn't even exist then.
Part of the Canvas Tuner's appeal, of course, is that it's made by a cool boutique brand that understands how to market its products online, but the package itself is impressively comprehensive – strobe and needle tuning, multiple bypass modes, multiple screen orientations, and most important of all – the ability to upload an image of your choice to use as the screensaver when the tuner's in bypass mode. Cue endless videos of people uploading photos of their kids, their cats, their album art and everything else you can imagine to a tuner. 2023 is weird man.
Quick Riffs
Guitar Center gets a leadership overhaul – the US retail giant has announced a new CEO, Gabriel Dalporto, plus new CFO and Chairman of the board in the most dramatic overhaul of the company's leadership since it emerged from Chapter 11 bankruptcy after a reorganisation deal that added new equity and debt capital, and boosted the retailer's liquidity, and allowed it to shed more than $800m in debt.
The fallout from The 1975's Malaysia scandal continues – concert organisers in Malaysia have been told to add "power kill switches" to all stage setups following the hugely publicised incident at Good Vibes Festival where The 1975 frontman Matt Healy kissed bassist Ross MacDonald mid-show and spoke out about the country's regressive laws that criminalise same-sex relationships.
The Gear Page is at it again – this time denizens of the internets most popular guitar forum are arguing about whether it's okay to just play chords on expensive guitars…
Quote Of The Week
"With Stone Sour, 9 times out of 10, I was better than the guitar player we had in the band"
Corey Taylor has blossomed from bemasked frontman to Novo-toting guitar player in recent years, and he's clearly not shy about his own abilities as a guitar player, claiming in an interview with Feedback Def that he was a better guitar player than the guitar players in his former side project, Stone Sour.
"With Sour, I was, nine times out of ten, always better than the guitar player we had in the band, as a lead player. So I said, 'Fuck it, I'll just handle it. I'm writing all the music anyway, I might as well be the guy who's leading the charge.'"
Quite a big claim when Stone Sour's rhythm players over the years have included no lesser players than Christian Martucci, Jim Root and RJ Ronquillo…
The Encore
Honestly, just watch this lad play Muse's Hysteria on a triple-necked guitar. Mad stuff. See you next week!
The post The Week In Guitar: slim-bottomed Gibsons, AI Beatles and pictorial tuners appeared first on Guitar.com | All Things Guitar.
Source: www.guitar-bass.net