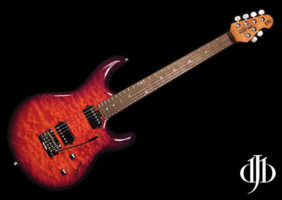 NYNGD: New Year's New Guitar Days! NYNGD #2017-7
.
Welcome to Day 7 of my annual New Year's New Guitar Days (NYNGD)!
Thanks for the kind words and comments on yesterday's NYNGD #2017-6! Now we're starting to hit our stride, and we're moving to the next level of EBMM goodness.
This is an interesting one — a Luke III BFR with a Solar Burst finish. Solar Burst is a finish that was offered on the Axis BFR, but here it is applied to a Luke III BFR. There's something really interesting here: Most of us assume that on a guitar with a burst, the burst color that's sprayed from the gun is the color we see — so in the case of Solar Burst, maybe it's a dark red or a brown. Well, in fact, the burst color actually is a color that, when blended with the thing you're bursting over, mixes to yield the final color. With Solar Burst, the burst color is purple (!). So, on an Axis BFR, you have the binding and the back is solid black.
But when the factory paints a Luke BFR, they apply a seal coat, then they mask the "back" and the sandwich (black) layer so that only the "top" wood is exposed, and then they apply the top color. Then they remove the masking and spray the burst and carry the burst color around the back. This yields something really unexpected on this guitar — the places where the "back" wood is visible, it's purple! And of course, the whole back is trans purple. This is totally NOT what I expected (I thought the back and sides would be the dark red/brown thing that you see on an Axis BFR. Really unexpected and cool outcome.
The other thing that's cool about this guitar is the roasted maple neck. Check out the grain. See how it runs the length of the guitar? Most EBMM necks are plain sawn, but this one is quarter sawn. Pretty cool and subtle difference. Plays and feels just like any other roasted maple EBMM neck, and seems to be just as stable, but looks unique.
This guitar sounds great and and is a particular favorite of mine. Hasn't been played live yet… maybe we should do something about that!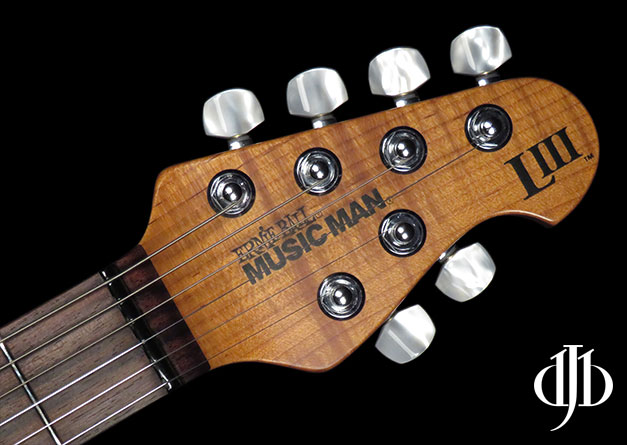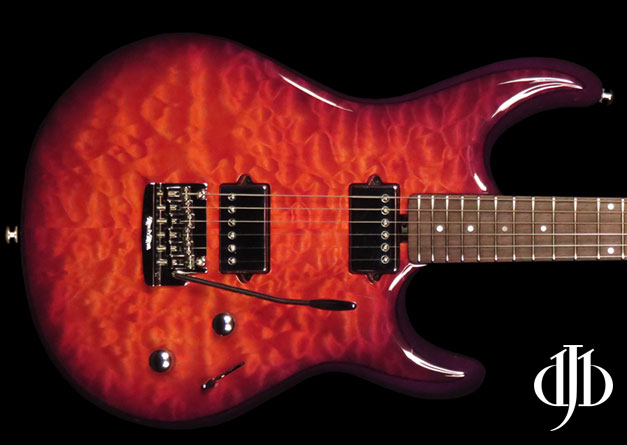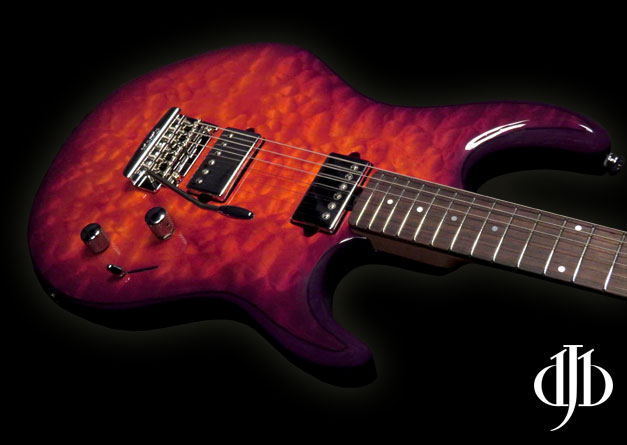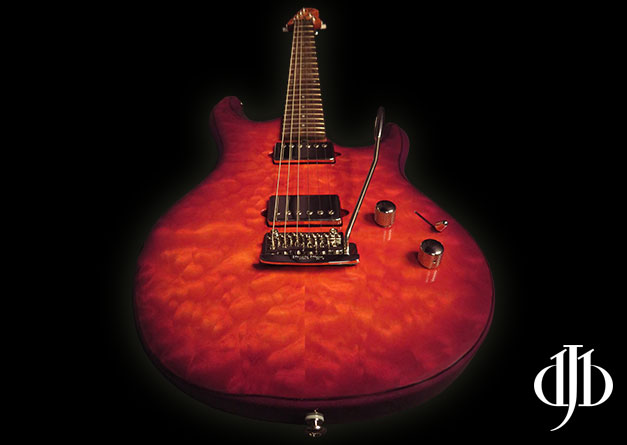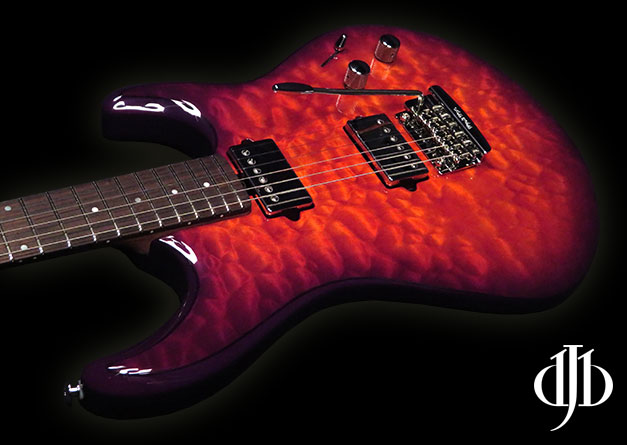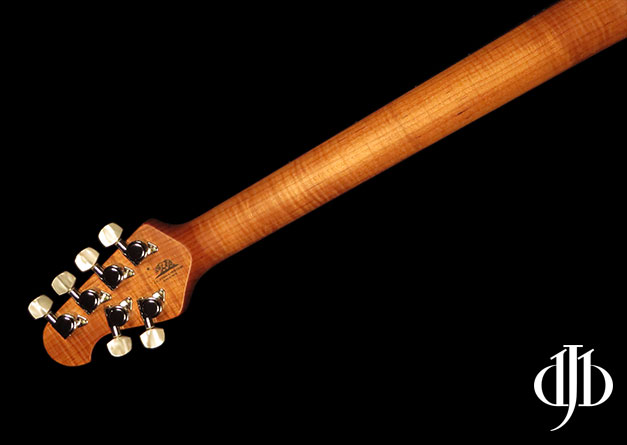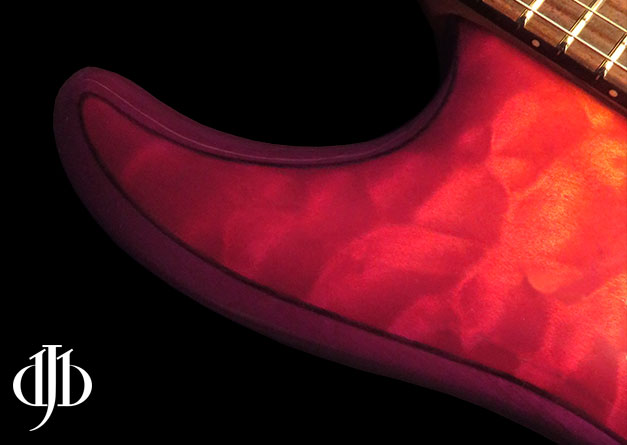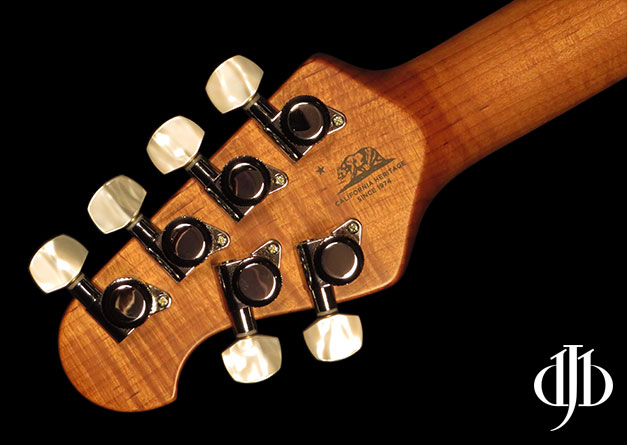 I'll be back tomorrow with another NYNGD: New Year's New Guitar Day!
Thanks for looking everyone!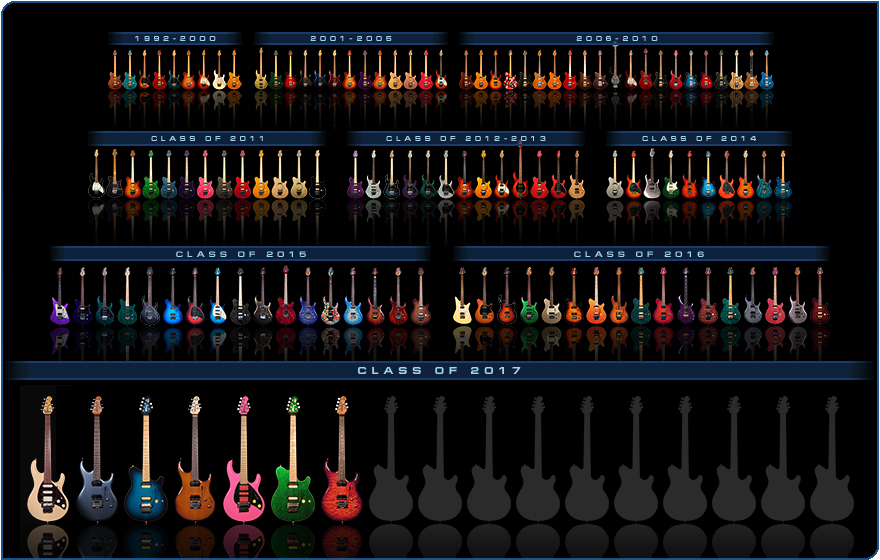 Past Days:
#2017-1 | #2017-2 | #2017-3 | #2017-4 | #2017-5 | #2017-6 | #2017-7
#2016-1 | #2016-2 | #2016-3 | #2016-4 | #2016-5 | #2016-6 | #2016-7 | #2016-8 | #2016-9 | #2016-10 | #2016-11 | #2016-12 | #2016-13 | #2016-14 |
#2016-1 | #2016-2 | #2016-3 | #2016-4 | #2016-5 | #2016-6 | #2016-7 | #2016-8 | #2016-9 | #2016-10 | #2016-11 | #2016-15
#2015-1 | #2015-2 | #2015-3 | #2015-4 | #2015-5 | #2015-6 | #2015-7 | #2015-8 | #2015-9 | #2015-10 | #2015-11 | #2015-12 | #2015-13 | #2015-14 |
#2015-1 | #2015-2 | #2015-3 | #2015-4 | #2015-5 | #2015-6 | #2015-7 | #2015-8 | #2015-9 | #2015-10 | #2015-11 | #2015-15 | #2015-16 | #2015-17
#2014-1 | #2014-2 | #2014-3 | #2014-4 | #2014-5 | #2014-6 | #2014-7 | #2014-8 | #2014-9 | #2014-10
#2013-1 | #2013-2 | #2013-3 | #2013-4 | #2013-5 | #2013-6
#2012-1 | #2012-2 | #2012-3 | #2012-4 | #2012-5 | #2012-6 | #2012-7
(The back story in case you're new to my NYNGD: For the past couple of years I've done a fun thing that most of you I think enjoyed, and I thought I would do it again this year. Every year, I am a slacker about keeping my Guitar Gallery up to date… So, as a fun holiday thing, let's launch a guitar in the Guitar Gallery each day leading up to New Years Eve! In the past I've received PM's about my collection and whether I play all of these guitars. 🙂 The same question came up during my NYNGD posts a few years ago and my answer was pretty detailed and well thought-out, so please check it out here!)
(Also, in case anybody gets any funny ideas — these guitars are not at my house. They are all in my very secure and alarmed studio facility. I usually only have two guitars floating around the house…)

Source: http://forums.ernieball.com