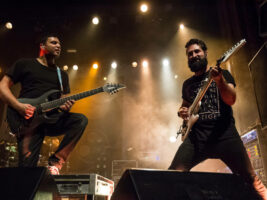 Periphery's new album declares that Djent Is Not A Genre
Periphery have announced that their new album will drop on 10 March 2023, and its title is Periphery V: Djent Is Not A Genre.
READ MORE: Members of Trivium, DragonForce, Periphery and more feature in Jared Dines' annual 'biggest shred collab song in the world'
The band announced the new record on 9 January in posts shared to social media, and revealed that the first two singles, Wildfire and Zagreus will drop this week on Thursday 12 January.
The band have always had a funny bone in them – song titles such as Facepalm Mute and Jetpacks Was Yes (an Arrested Development reference) have previously shown they don't take themselves too seriously.
And of course, amongst the excitement for the new release has been a lot of amusement around the record's title. Although often credited as one of the pioneers of Djent, a type of music which features complex rhythms and downtuned guitars, it's a label they're not all too keen on.
Yes, it's really happening! This Thursday, January 12th, we'll be releasing not one but two singles from our forthcoming new album.
You can pre-save the singles in the link in the bio.
Periphery V: Djent Is Not A Genre is out March 10, 2023 via @3dotrecordings. pic.twitter.com/PbVPGWWWeX
— Periphery (@PeripheryBand) January 9, 2023
The name of the "genre" is onomatopoeia for how the palm-muted, distorted guitars sound; users on Twitter have been having some fun playing around with the titles wording, and have also shared the praise for the band's comedic approach to their music as always:
Should've been Djent is Not a Djenre
— Andrew, Tarnished (@ArmedStrobbery) January 9, 2023
Excellent title there Djentlemen
— Matt McCoy, Wise Mentor (@atem_akanaten99) January 9, 2023
 
This new release marks Periphery's first full-length album since 2019's Hail Stan. The single releases will be accompanied by an album pre-order. Three different LP variants will be available as well as a complete line of album-themed merchandise, which can be ordered individually or as bundles.
Periphery V: Djent Is Not A Genre will drop on 10 March 2023. Find out more at Periphery.net.
The post Periphery's new album declares that Djent Is Not A Genre appeared first on Guitar.com | All Things Guitar.
Source: www.guitar-bass.net